Picnic like a Parisian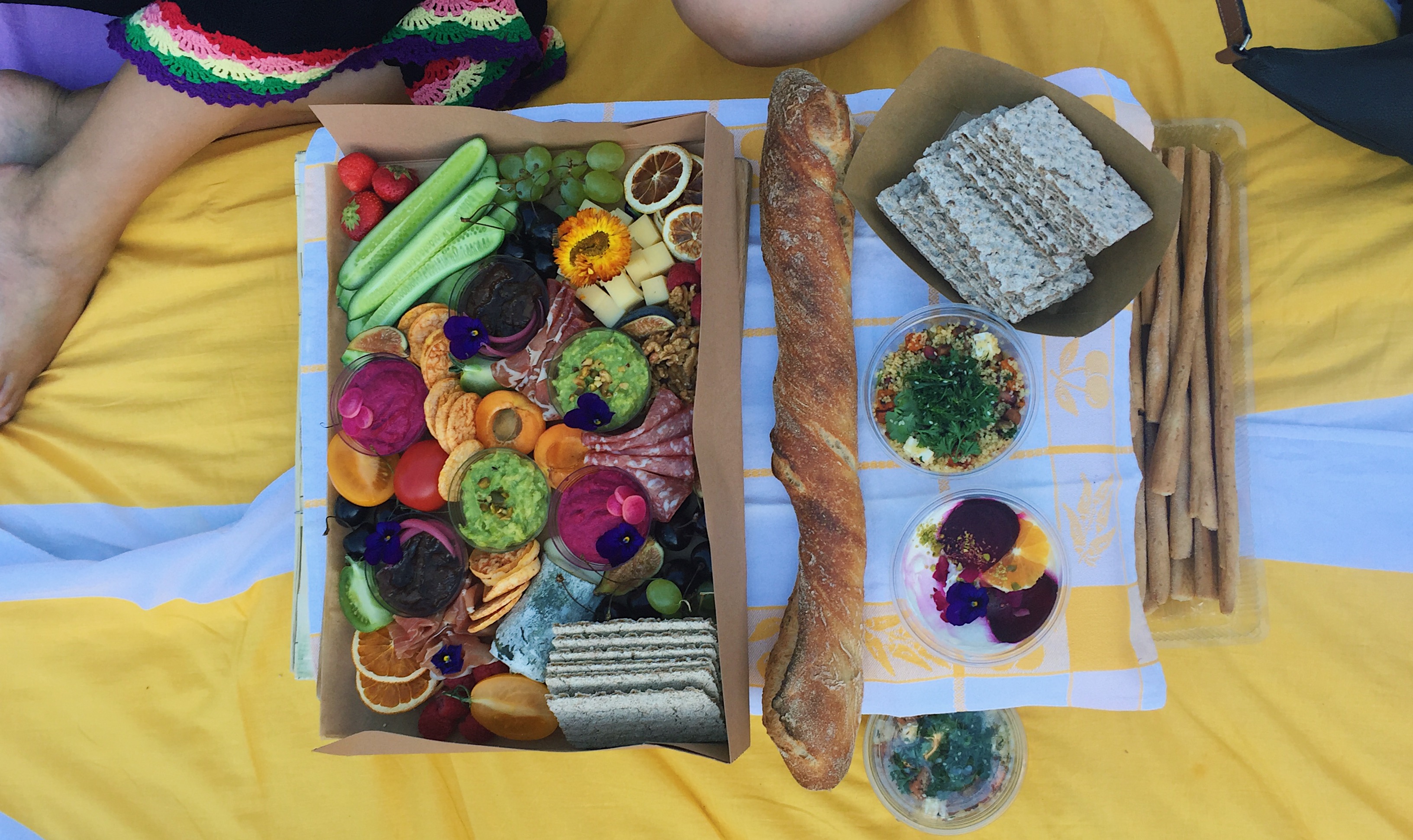 Did you know the origin of the picnic is French? Traced back to the 1600s, the earliest gatherings in France did not resemble our modern idea of a pique-nique — they were indoors and seen as quite bourgeoisie and gluttonous affairs. In the following centuries the picnic moved outdoors and became a favorite subject for French painters. Later the Anglos — the British and then the Americans — perfected the picnic into what is it today, but we have the French to thank for the genesis.
In our modern times, picnicking is a cherished summer activity in Paris. Remember, it is grey and drizzly much of the year, so when summer rolls around Parisians want to be outdoors. To really feel like a local in Paris, enjoy an hours-long picnic en plein air complete with rosé.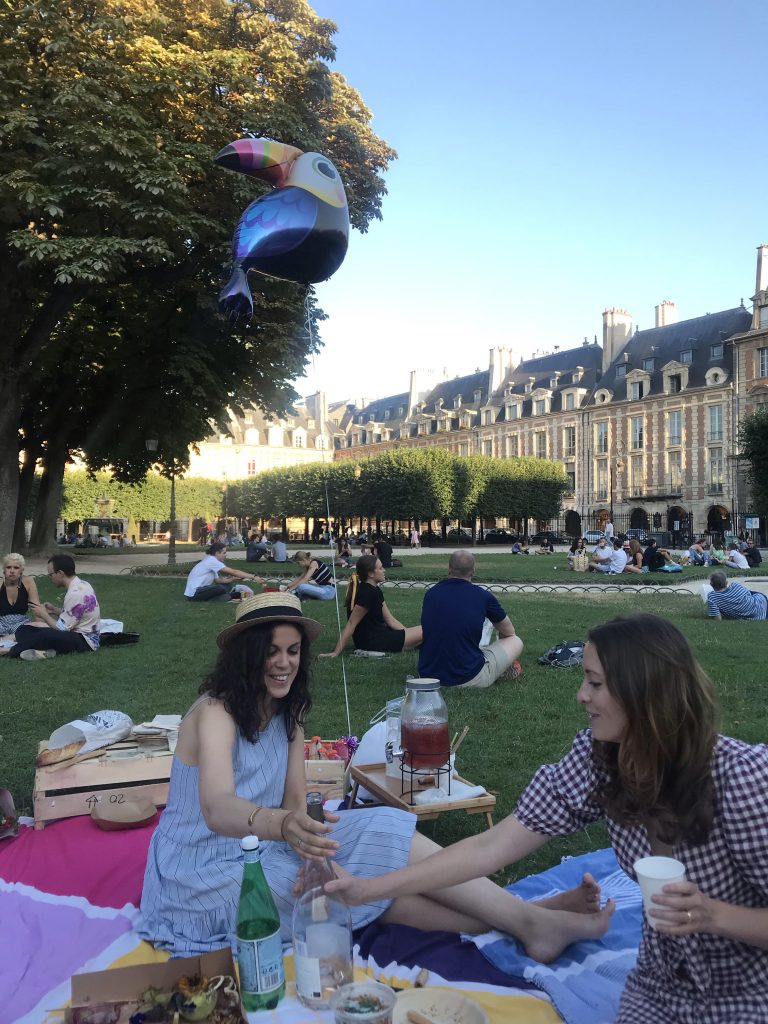 In the spirit of embracing my adopted home, and in a tribute to the French for their glorious contribution to the world, I threw a summer pique-nique party for 12 of my friends. I wanted this soirée to feel elevated, so I added some special touches, but a proper Paris picnic can be as simple as some boulangerie sandwiches or as elaborate as you like.
WHERE TO PICNIC
Hands down my favorite place to picnic like a local is Place des Vosges in the 4th arrondissement. Yes, it is a popular tourist destination, but few tourists actually stay and hang out. They walk through, get their pictures and move on. By doing so they are missing out on the greatest pleasure of this immaculately-manicured square! No matter where you sit, you have beautiful view (and background for photos), the sound of the fountains and an authentic Parisian atmosphere. There are also tons of great food options right around Place des Vosges, which makes putting your picnic together simple.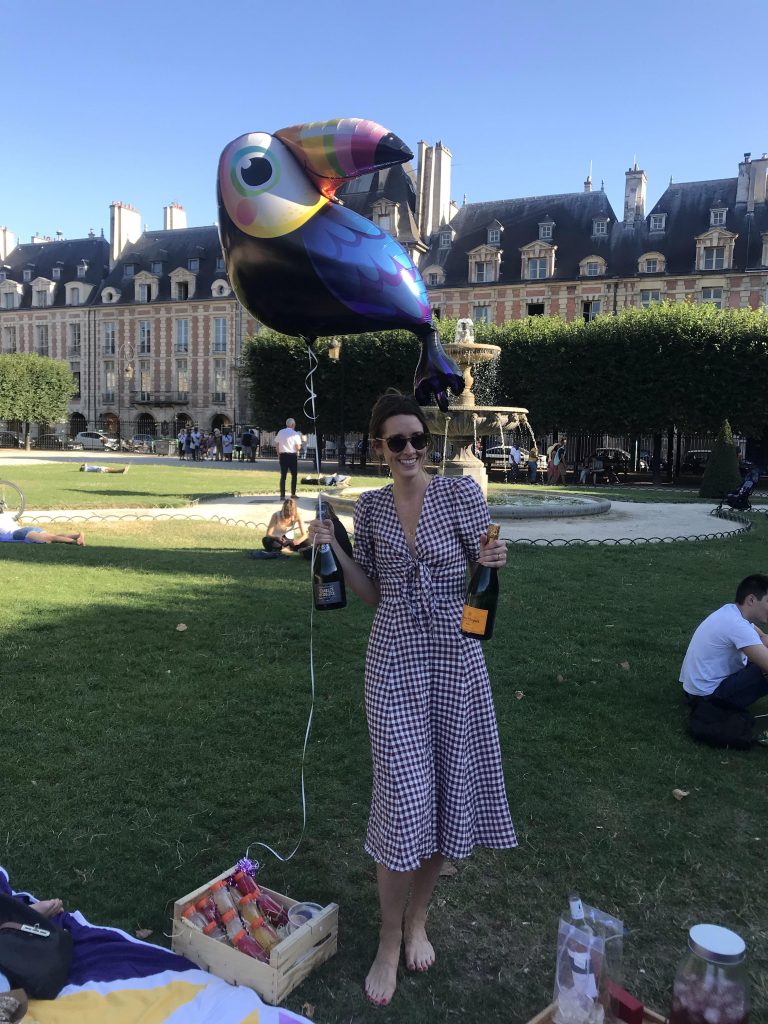 If for any reason you want a different local-centric picnic location, I can also recommend Parc Monceau in the 8th arrondissement, Parc des Buttes-Chaumont in the 19th or the Voie Georges Pompidou along the Seine in the 1st and 4th (called Les Quais by the locals). Les Quais doesn't have nearly the same grass space as the others, so I recommend that location more for a smaller gathering or a casual one.
Food and drink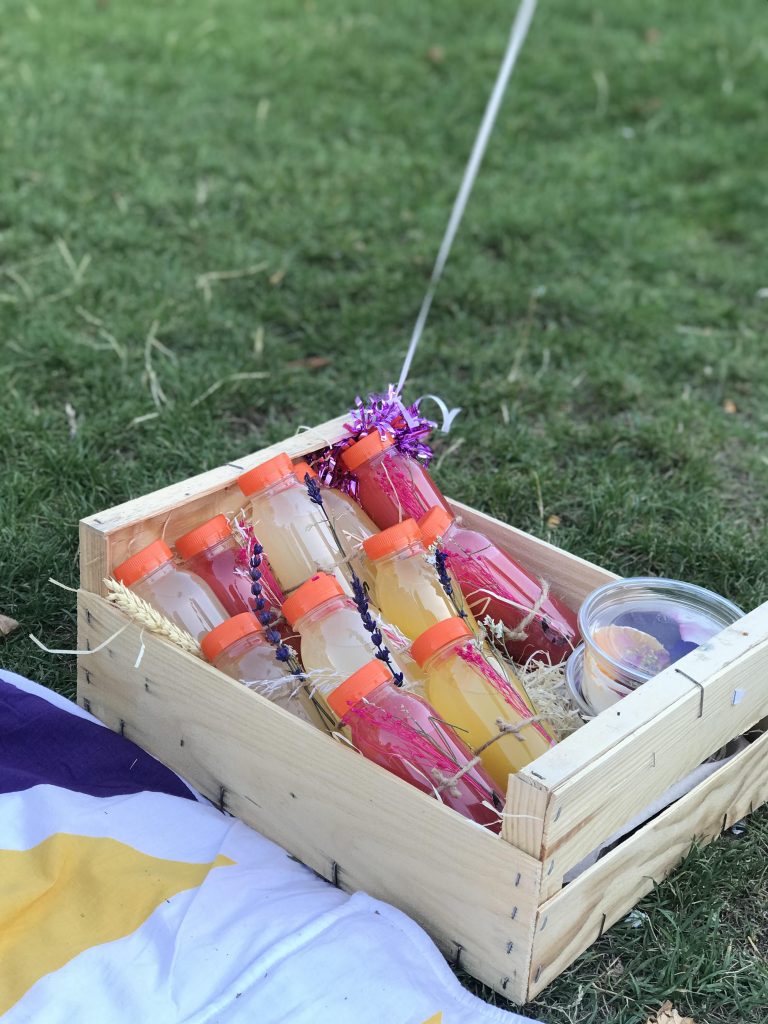 Depending on how much time and money you have to spend on preparing your picnic, I propose three different options near Place des Vosges for putting your basket together. Also, when hosting a larger group ask people to bring wine or something small to share with the group. That helps with your costs, but also keeps fresh treats coming as new guests arrive.
The Fancy Picnic: Specialty Catering
View this post on Instagram
I really dislike cooking, and I'm not the best at it either. So to make my picnic special, I went to the professionals. Café Méricourt, a favorite local restaurant, has started a specialty picnic catering arm called Cuisine Méricourt. For me, they created a beautiful planche of cheese, meats, spreads, dried fruit and more, supplemented by a tabouli salad, labne and beets salad, juices, and mixed fruits and cookies for dessert. Priced between 10-15€ a head, they can work with you to create your dream picnic spread, including many vegetarian options. The food was a hit and saved me the time and effort of putting it all together myself.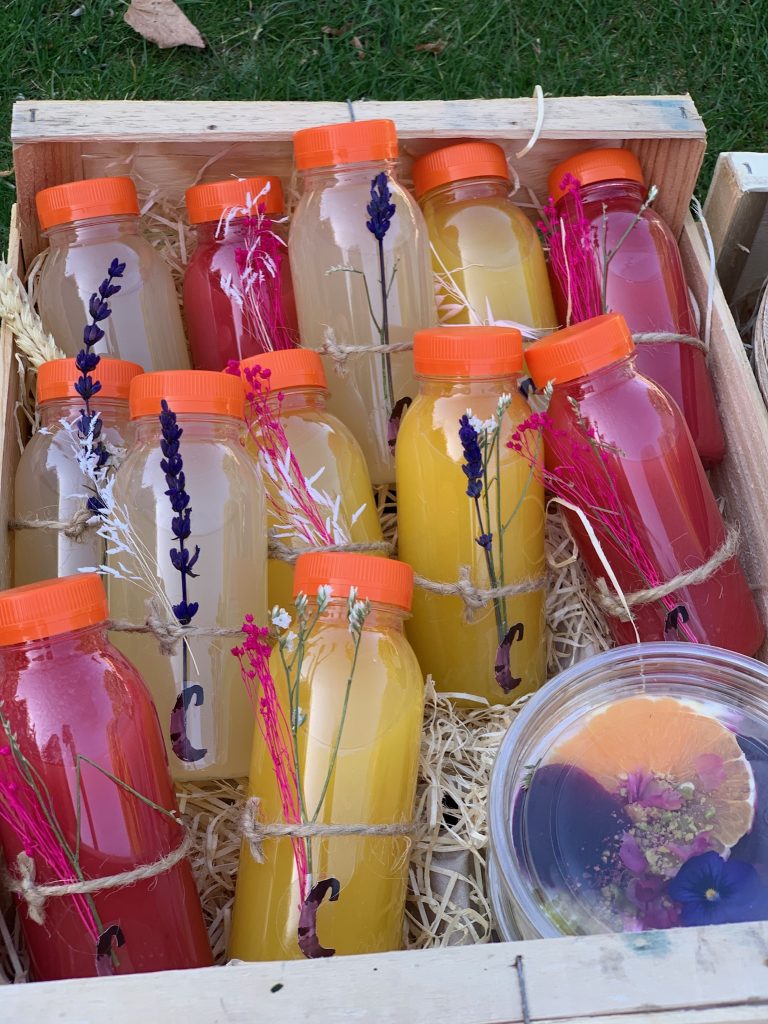 Create-Your-Own French Planche
If you'd rather go the do-it-yourself route, there are excellent specialty stores within minutes of Place des Vosges. Grab a shopping bag and make your own mix at these locations along Rue Saint Antoine:
Cheese: Fromagerie Laurent Dubois Bastille. One of the best fromagerie in Paris, I love the fresh goat cheese with yuzu or cherries. | 97-99 Rue Saint-Antoine, 75004
Baguette: Tradition from Miss Manon | 87 Rue Saint-Antoine, 75004 or the delicious baguette craquant (extra crispy on the outside) from Boulangerie St. Antoine. | 29 Rue Saint-Antoine, 75004
Meat and sides: Au Sanglier sells charcuterie, pâté, quiche, as well as sides and chips. I recommend the jambon de Paris. | 49 Rue Saint-Antoine, 75004
Fruit and veggies: Primeur du Marais | 61 Rue Saint-Antoine, 75004 or Vergers Saint Paul | 97 Rue Saint-Antoine, 75004
Wine: Julien de Savignac. Be sure to ask which wines they have cold (frais) and if you don't have a bottle opener they can open it for you in advance. | 73 Rue Saint-Antoine, 75004
Grab and Go
If you're pressed for time, or perhaps your picnic is just a handful of people, go for an easy picnic option and pop into Maison Plisson. This lovely high-end grocer stocks pre-made salads, pastas and dips, as well as baguettes, meats and produce. An eight minute walk from Place des Vosges. | 93 Boulevard Beaumarchais, 75003.
And for a dessert that always pleases, Popolini's choux à la crème (cream puffs) are as mignon as they are tasty. | 35 Rue de Turenne, 75003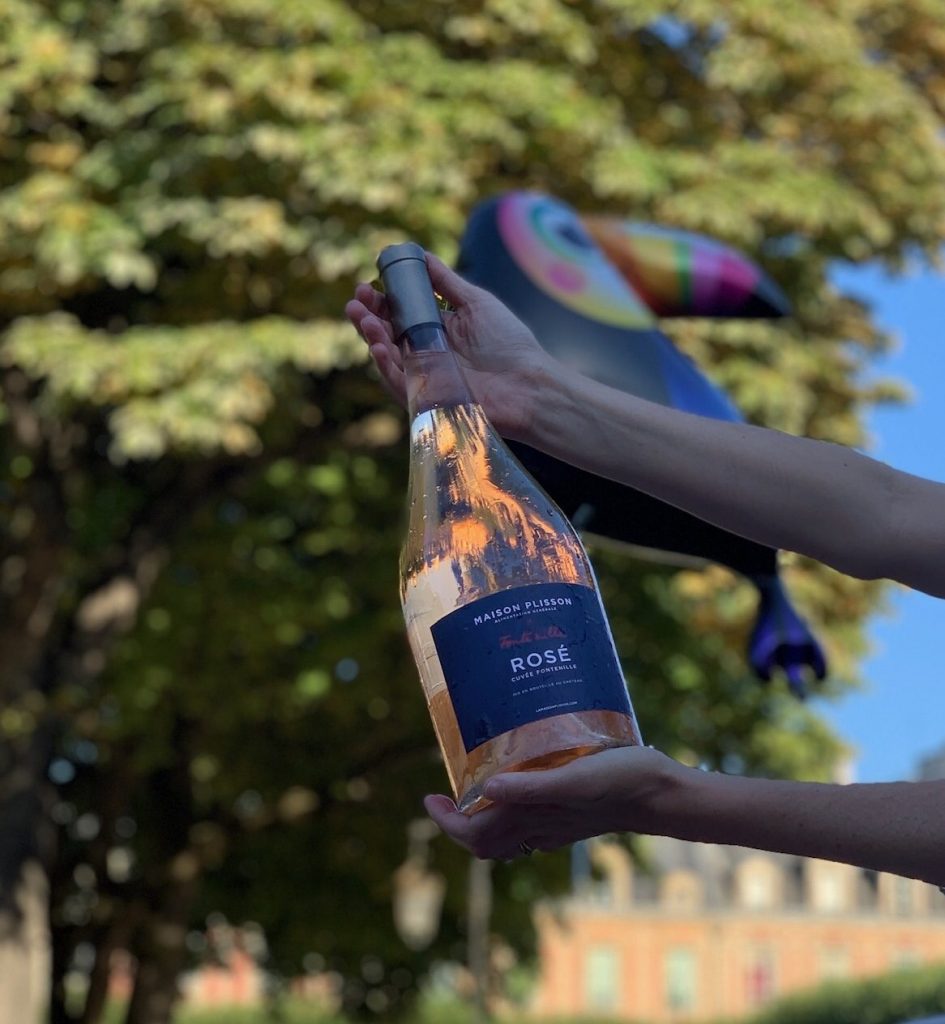 As far as wine goes, rosé is the classic French pique-nique choice, but there is no hard and fast rule. Go with what you and your guests like best. I can confirm that champagne, especially during dessert, definitely spells festive.
Decor + French Touches
A blanket is the bare minimum, but there are some simple and cheap ways to make your Paris picnic pop.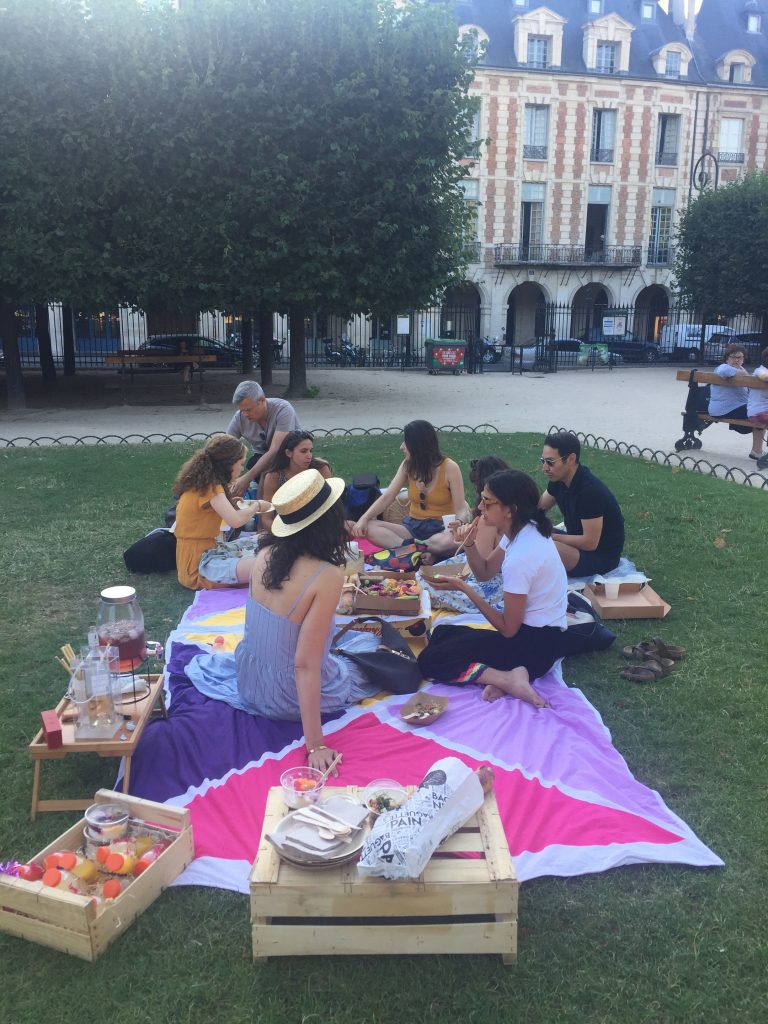 One problem I always find at picnics is that when everything has to be put on the ground, it starts to get messy fast. An easy and free fix for this: fruit palettes! In Paris, the fruit and vegetables sold at the markets get delivered in these light, wooden crates and many shops get hundreds delivered each week. I asked my neighborhood shop for a few, used them to transport my supplies to the park, and then turned them into display boxes or flipped them upside down to use as tables. I put kitchen towels (torchons) on top of some of them to protect against splinters.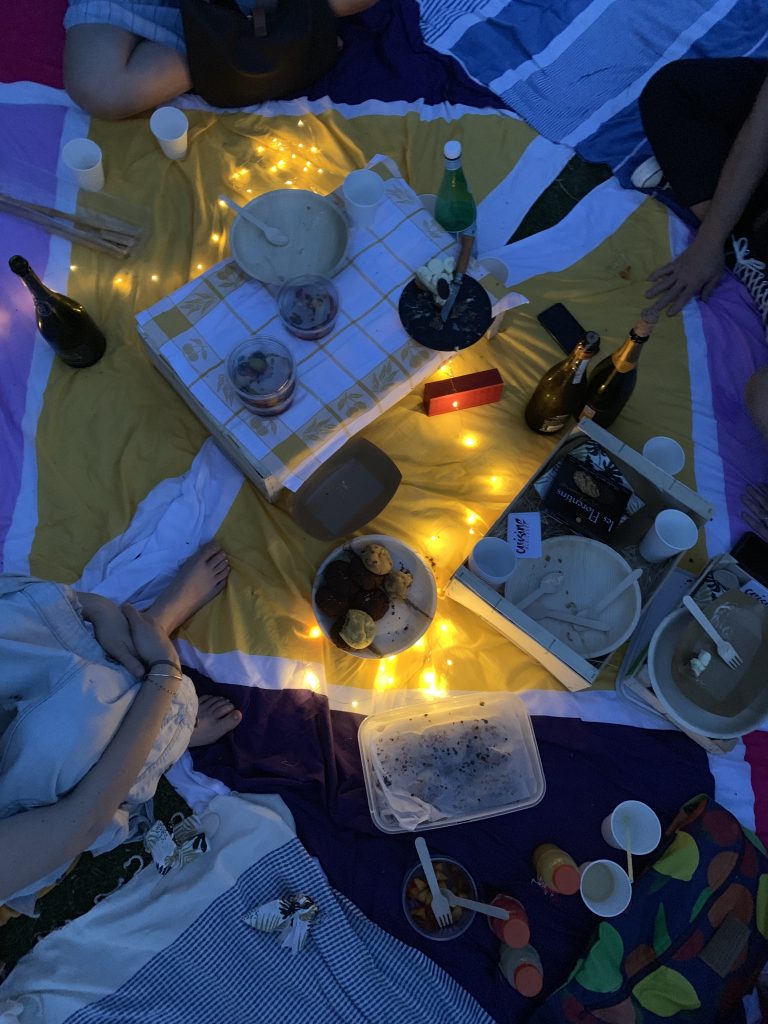 My picnic begin in the early evening, and I wanted a nice lighting option for once the sun set. I initially thought candles, but open flame plus blankets sounded like a dangerous combination. So I dug out my battery-powered Christmas lights from the holiday decorations and brought them along to unspool as the sunlight dimmed.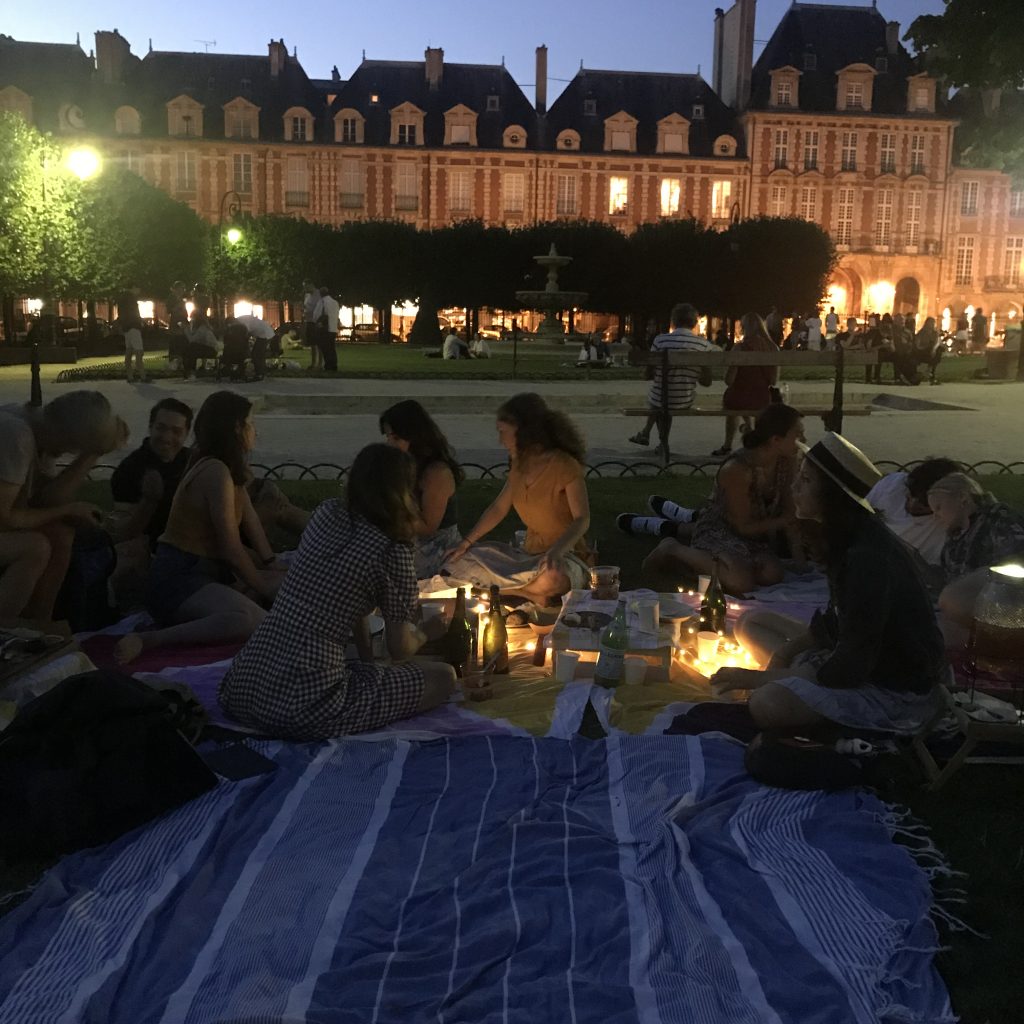 Tying off a big balloon is a picnic trick I picked up in New York, where it can be hard to find your party in the big open spaces of Central Park. But when a giant toucan is floating above you, friends have no problem spotting the party. I picked mine up at Vivafiesta, a party store just two minutes from Place des Vosges. | 38 Boulevard Beaumarchais, 75011
Finally, a couple nearby places to pick up picnic supplies: Monoprix, the "French Target" where I bought my blankets, plates, cutlery and more. They are all over the city, but the closest to Place des Vosges is at 71 Rue Saint-Antoine, 75004.
HEMA is a sort of home goods store, but also carries lots of party supplies. | 1 Rue de Rivoli, 75004
What are your picnic in Paris tips? Leave a comment and share!
---
---