La Vie de Château: A French Weekend in the Champagne Region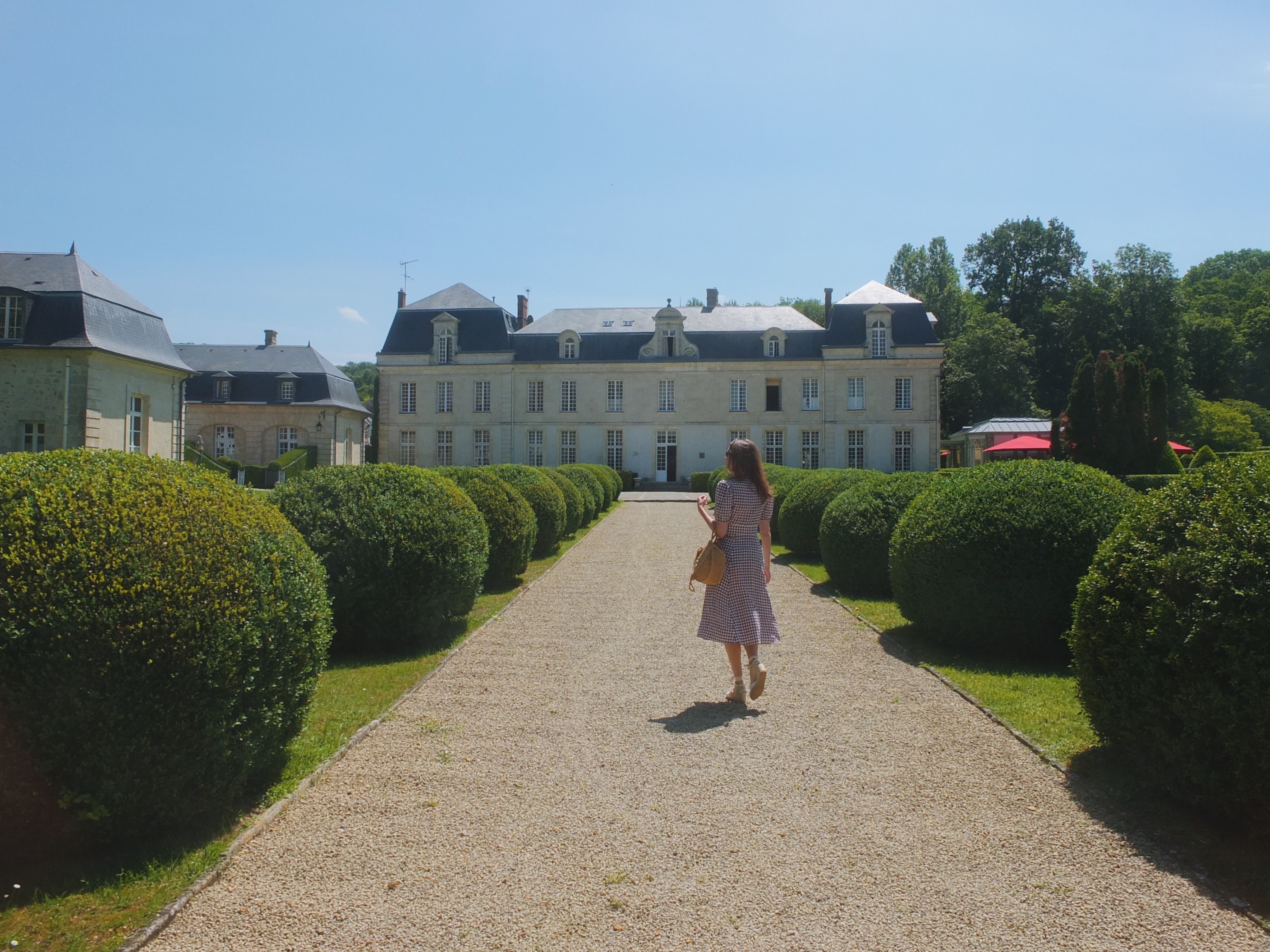 La vie de château — the château life. In French it means when a person doesn't work much, but enjoys a fancy existence. Sounds pretty good to me!

While I can't afford to enjoy la vie de château permanently, I am able to pretend for a weekend. It's a classic French vacation to stay at one of France's many beautiful châteaux (country homes of nobility) that have been transformed into world-class hotels. You never have to leave the property — dining well, relaxing, taking advantage of the activities, and sleeping in the historic halls. These châteaux are also popular choices for French weddings. As part of my Parisienne-in-training program, I simply had to try it for myself.
Château de Courcelles
I'd had my eye on Château de Courcelles for about a year. My husband brought it to my attention last summer, and I'd been plotting how to get there ever since. Tip: Château de Courcelles is part of the Relais & Châteaux network, which sells coffrets cadeaux (gift packages). Many big French companies offer discounts on these boxes for their employees through their CE, and we were able to get one this way.
At less than two hours driving from Paris, on the road to Reims in the Champagne region, transportation wasn't tough to figure out — but I became obsessed with having perfect weather to take advantage of the pool, tennis and trails. After cancelling a reservation last year due to poor weather, I was counting on June to be kinder.
The canal

Side view of the château
Courcelles has a storied history. Built around the same time as the Palace of Versailles, the château boasts similar design and decor features. And many famous guests have roamed the grounds — Voltaire, Jean Cocteau, Christian Dior, even Napoleon, who met his second wife Marie-Louise here. It was occupied by the Germans during both World Wars and was later owned by an American winemaking family from Napa Valley, but eventually, in 1989, was reborn as a four-star hotel.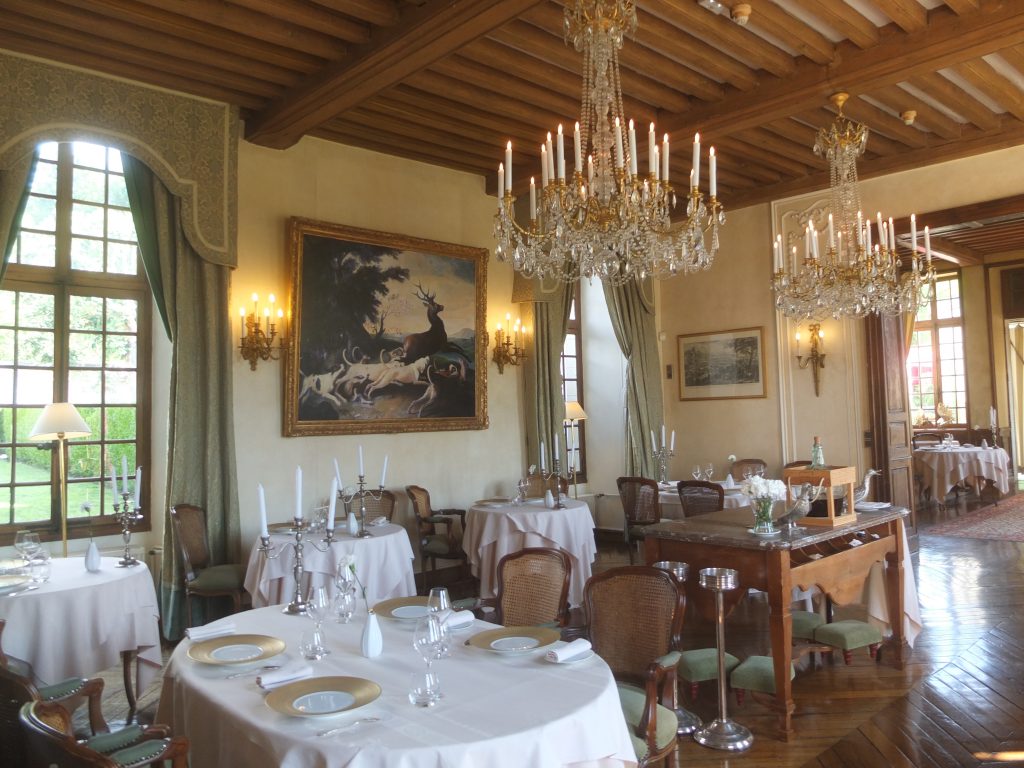 I had whipped myself into a château frenzy by the time we arrived, so admittedly my expectations were high. But every aspect — from the room, to the service to the meals — surpassed them. From our room on the top floor we had a sprawling view of the property on two sides, and we filled our two days with swims, tennis, hikes and plenty of champagne.
Chambre #7

One view from our room
The little things made the experience extra special — the private seating nooks scattered about the property, the thoughtful lighting, the ironed table clothes, or my favorite: a charming breakfast carousel for presenting pastries. And I always appreciate a noon checkout that allows for a leisurely breakfast and pool time in the morning.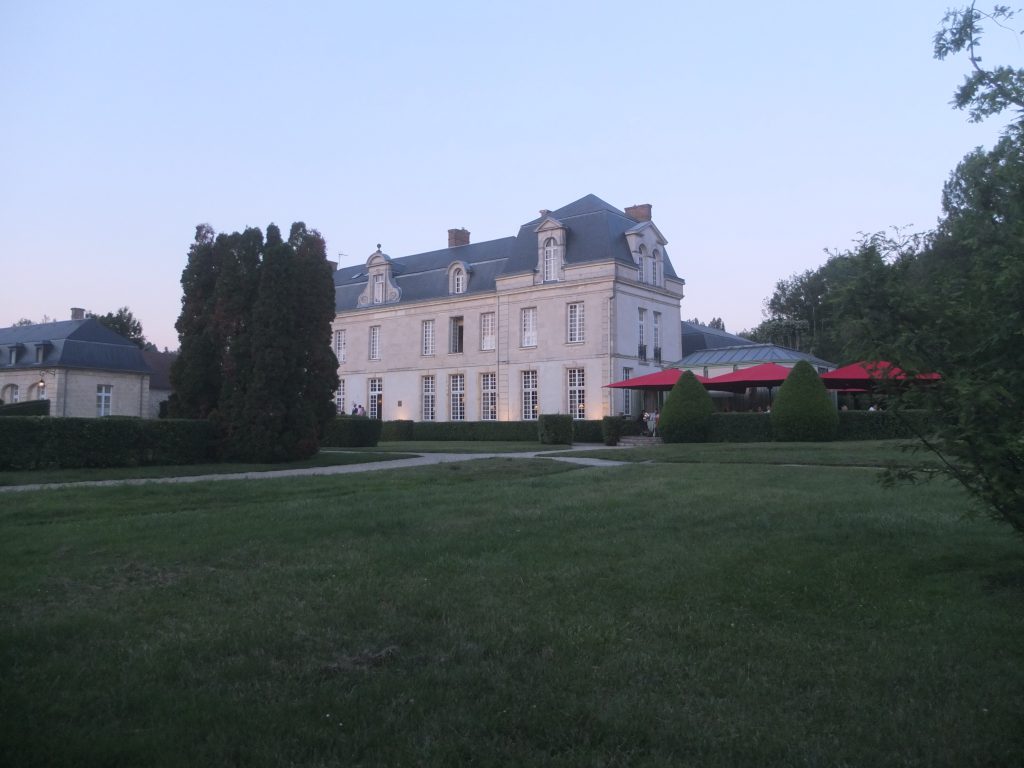 Sadly, I couldn't move in, and we eventually had to bid Château de Courcelles adieu. There was a Part II of our adventure and it involved even more champagne.
Visiting the Champagne Region by car
I had been to the Champagne region with my sister last summer, but without a car, so we had to limit our adventure to where the train could take us. This time, I wanted to explore smaller villages that were inaccessible during that journey.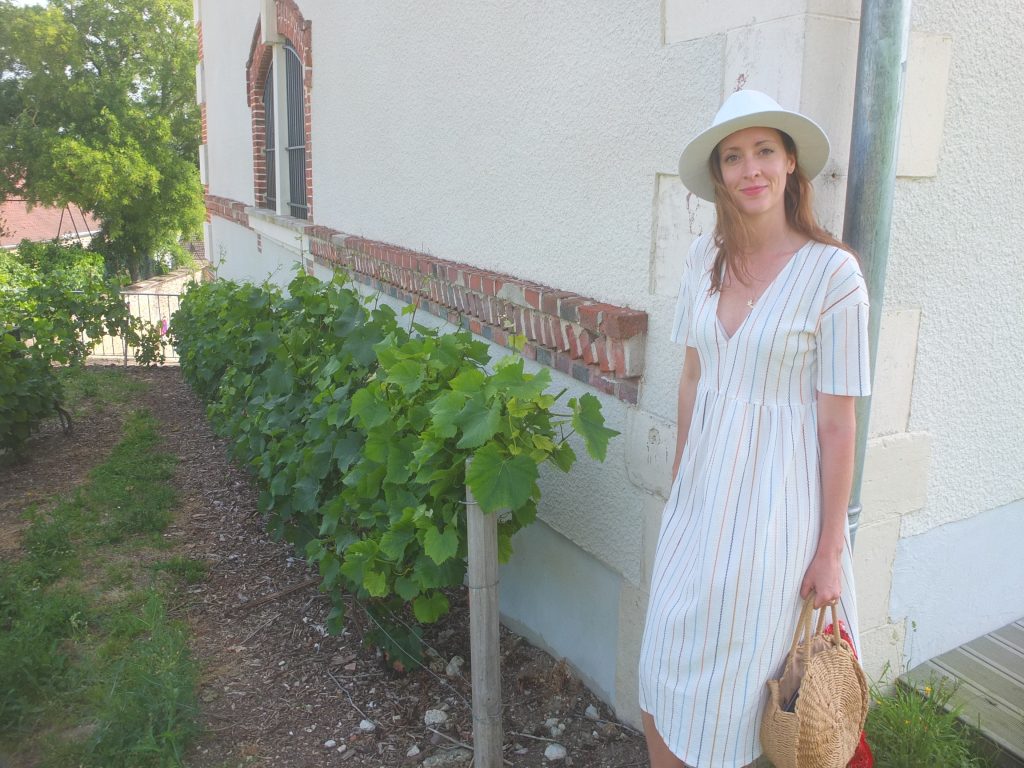 This is how we ended up in one of the most charming French villages I ever did see — Hautvillers. Snuggled between Reims and Epernay, Hautvillers is up on a hill as its name implies (high village), and looks straight out of a movie. Look for the intricate iron signs outside buildings that signal the profession, nationality or passion of the resident. This village is a must visit, and I wish we could have spent a night there as well.
To further our Champagne education, we stopped at the grande marque Taittinger in Reims in order to see the historic caves. But I was more looking forward to our second Champagne producer visit, Cité du Champagne in the village of Aÿ, which is a cooperative winery that provides the grapes for Champagne Collet.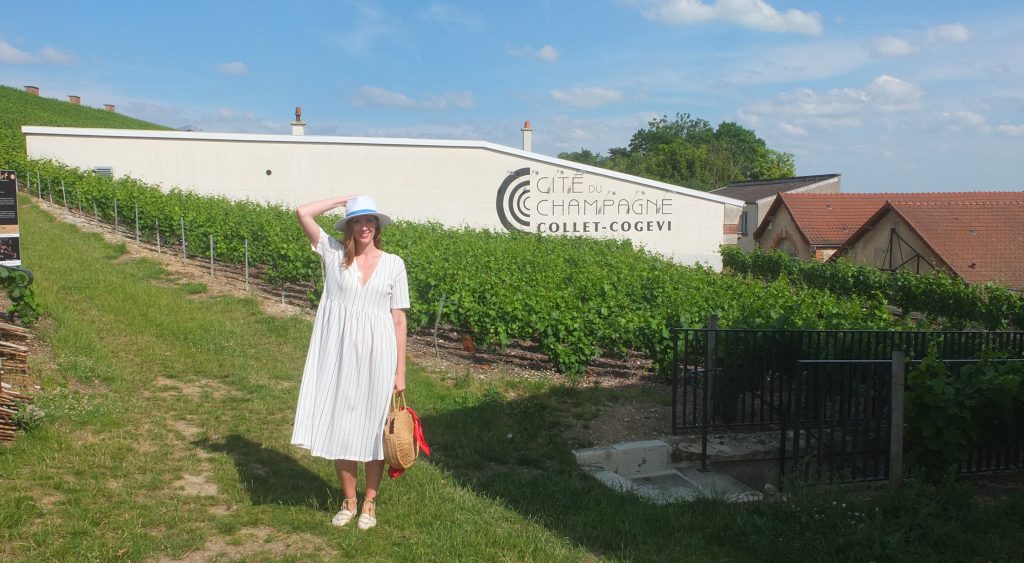 I used Rue des Vignerons to book the visit, which is a bit like Tripadvisor for wineries. It lets you see reviews, search by location and language, and book your visit (you pay at the winery, not on the website). If you don't know where to start with finding producers to visit, Rue des Vignerons is a great reference for wineries across France.
My husband was already a fan of Champagne Collet (especially the blanc de blanc) but the brand was new to me. Before our tour, I also never knew there was a Champagne revolt in 1911 in which winemakers and workers protested in the streets to demand better protections. Out of this the first winegrowers' cooperative was born, called COGEVI, which allowed members to work together to produce wine and share resources and facilities. Think of it as a sort of union for winegrowers that gave them collective bargaining power. This group sparked the creation of Champagne Collet. Cité du Champagne is their compound, surrounded by vines, and houses the cooperative's cellars and machinery and the tasting room of Champagne Collet. There is also a really fun museum of tools and equipment used to farm and collect champagne grapes through the decades.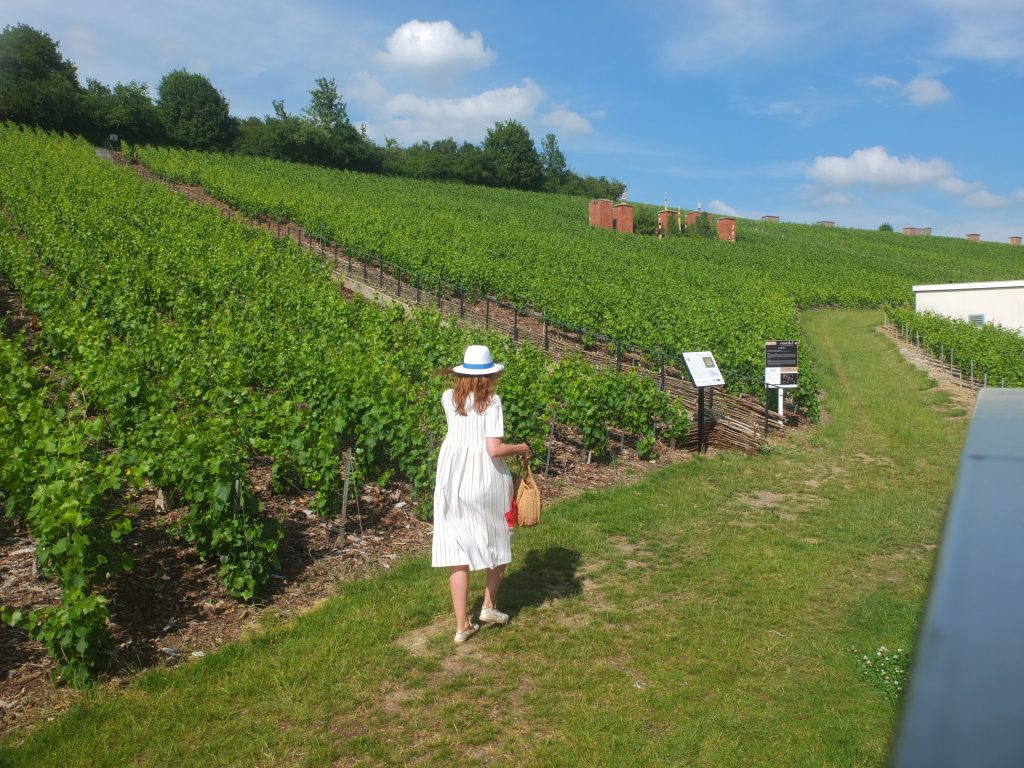 In addition to the history and champagne making process, the tour also includes a lot of information on wine production in France, putting the country's industry in a global perspective. It's especially nice to be able to see the actual vines that are used in the process — something you don't get to experience at the big brands.
Finally, our guide led the tasting and told us more about the entire collection of Collet champagnes. We left with a bottle of brut and a blanc de blanc, which we will keep in our own personal cave (aka under the bed) until the day when we want to be transported back to our charming champagne weekend.
For more on the Champagne region, check out my post on my first trip with my sister:
Your Perfect Champagne Region Itinerary — Two Days of Bubbly without a Car
---
---