Classic 'French Songs' that are Actually Ripped-off English Tunes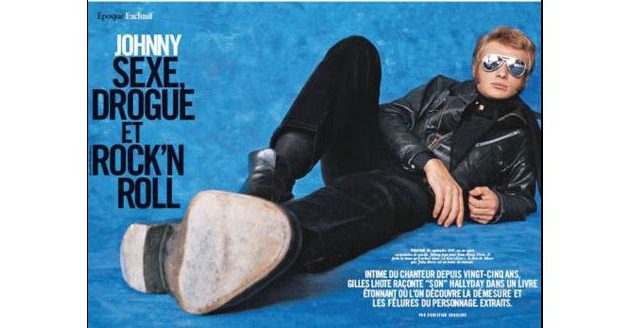 While unknown to most Americans, Johnny Hallyday is one of France's most beloved singers of all time. Until his death earlier this year, the "French Elvis" was selling out giant stadiums in Europe. He also loved to take American hits and pass them off as his own.
I discovered Hallyday during his 2014 U.S. tour when I saw him perform at the House of Blues in New Orleans with my husband. This was first time I had ever heard of the massive French star but, unbeknownst to me, I was already very familiar with many of his biggest hits.
When Hallyday's band started playing what sounded exactly like CCR's "Fortunate Son," I turned to my husband and asked, "is he singing about the Vietnam War?" He looked at me confused. I explained to him this song is one of the most famous protest songs in American history — but my husband had no idea. To the French in the room, it was Hallyday's "Fils de Personne."
The lyrics are similar, but with the direct war references removed to be more about the character not being born into privilege. The title translates to "Nobody's Son."
Later in the set came French versions of Jimmy Hendrix's "Hey Joe" and The Animals' "House of the Rising Sun." These songs were all huge hits for Hallyday, across the ocean from where they originated.
Hallyday may be the king of these kinds of covers, but he's far from the only big star of yore to do this. After moving to France, I constantly heard classic 1960s and 1970s English-language songs that had been co-opted by French singers. I'm sure the original songwriters were aware and compensated, but the French public was none the wiser.
In rare cases, the French versions became more famous than the English ones. Good chance if I ask you to name a famous French song, the 1969 classic "Les Champs–Élysées" would be one of the first to spring to mind. Guess what? It ain't a French song. One year earlier, the song "Waterloo Road" with the exact same tune, and a similar lyrical theme was released:
If you've ever wondered what a French knockoff of The Beach Boys would sound like — well wonder no more. In 1975, Barbara Ann moved to France (presumably a beach town) and changed her name to Ma-Ma-Ma-Ma Marylène.
How about a bad French Bob Dylan impersonator? Oh, he exists and was quite popular. Hugues Aufray has the affectation, the harmonica and didn't even try to hide that he was mimicking Dylan. He just sang Dylan's songs in French. I guess imitation is the highest form of flattery…but why French people didn't just listen to the real deal is confusing to me.
One evening at my apartment I was playing the classic Tom T. Hall country song "That's How I Got to Memphis" (most famously covered by Johnny Cash). My husband perks up — "I know this song" — and shows me this ridiculous French human Eddy Mitchell singing "Sur la route de Memphis." As bad as the singing is, the hair is somehow worse.
You of course know Nancy Sinatra's "These Boots Are Made for Walking." But have you heard "Ces bottes sont faites pour marcher"? The singer, Eileen, is American. She learned French in school and had a number of hits taking American songs and adapting them into French. That's one way to do it.
It wasn't only American artists getting this treatment. The Rolling Stones, hailing from just across the English Channel, were not immune either. Behold… "Ruby Tuesday" is translated to "wild girl" and becomes "Fille Sauvage":
"Paint It Black" was also covered by a French singer named Marie Laforêt who transformed it into "Marie douceur, Marie colère" (can't have enough Maries in there).
Elton John's "Your Song" was turned into "C'est ta chanson," which isn't a terrible version, but suffers a bit from the overly-emotive singing style that plagued many French performers of that era.
And if the English version wasn't bad enough, the novelty song "Itsy Bitsy Teenie Weenie Yellow Polkadot Bikini" went back to its roots to become "Itsy bitsy petit bikini." I guess it's only fair considering a Frenchman invented the bikini that the French be subjected to this tune as well.
The list goes on and on. I wouldn't be surprised if half the popular songs in the 1960s and 1970s were just covers of English tunes. If you're into these French versions of English-language classics, you can find a playlist of many more here.
There is ONE example I can find of a huge classic song in English that you probably didn't know was French first. Frank Sinata's "My Way" was in fact first Claude François's "Comme d'habitude." However, one of Claude's biggest hits was a French version of The Four Seasons "December, 1963 (Oh, What a Night)" called "Cette Année Là." So he was a copy-cat too.
You could maaaaybe argue that "Beyond the Sea," which was first "La Mer" in French, is a classic, but I don't think it is as well-known.
This practice doesn't happen much anymore, and I'm guessing the reason is:
The internet means you can't as easily pass these off as your own tunes.
Younger French people are much more comfortable with English lyrics than their parents were. There have been crossover artists that were extremely popular in France such as Michael Jackson and Whitney Houston, but fewer English-language singers made the cut thirty years ago.
Have you discovered any French songs like this that you love (or love to hate)? Leave it in the comments for us to discover!
---
---