Biking in Provence for Dummies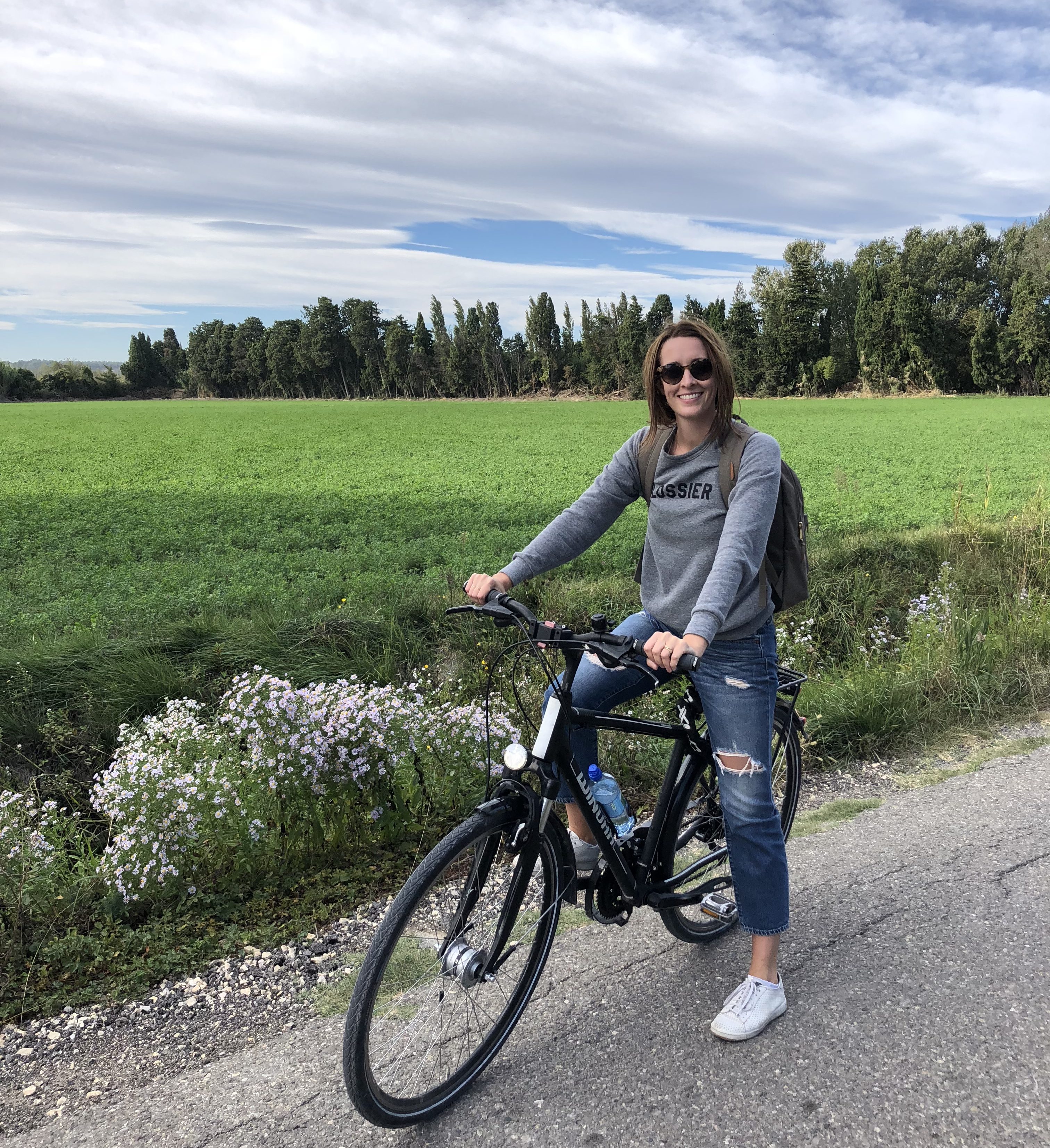 I'm no Tour de France rider. I'm not even a bike-with-gears kind of rider. So when my sister (also an amateur) suggested we do a three-day, self-guided cycling trip through Provence, I balked.
"What better way to see Provence?" she campaigned. "We won't be crazy. We'll figure out a flat, easy route and stop a lot along the way." I remained skeptical.
It was the discovery of a 2009 New York Times article in which a man and his girlfriend biked alone in Provence that changed my mind. Sure, they used a tour company that picked up their luggage and provided maps and support. But if they could do it just the two of them, surely we could figure this out on our own? Okay, let's do it. It will be an adventure!
Using their trip as a starting point, my sister and I researched flat paths, booked hotels, reserved our bikes, printed maps and headed down to Avignon as a starting point. We embarked with everything for three days in our backpacks and my intermediate French designating me the de facto leader.
Fast forward three days. Dirty and giddy at the Avignon train station, we can't say the trip was exactly seamless — but it sure was an adventure. Okay, we had to be rescued at the end (more about that later), but we discovered places we never would have sans vélo and there was definitely some sister bonding.
In case you're interested in doing a similar trip, I'm sharing our successes and failures so you can build off our experience.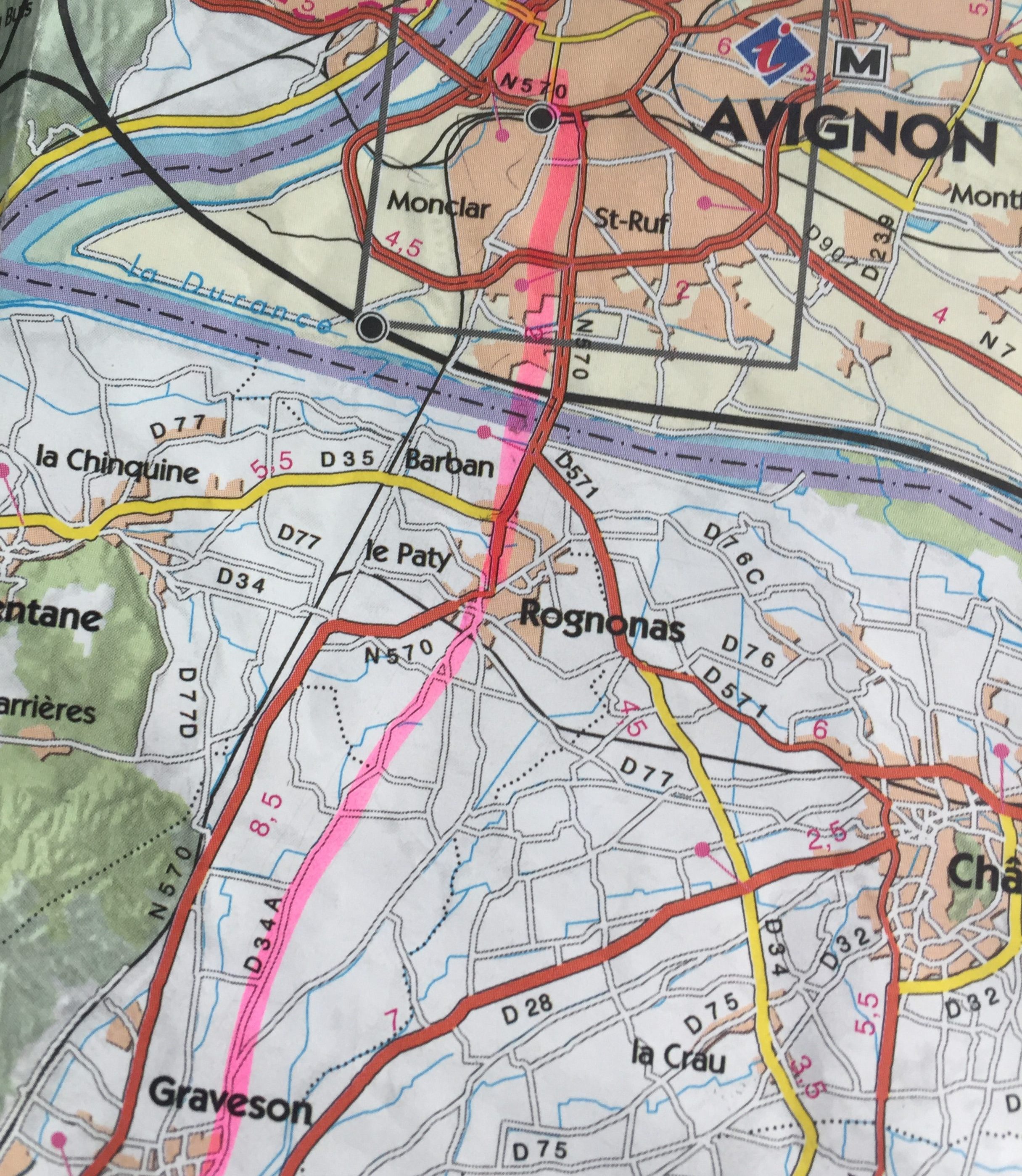 DAY ONE: Avignon to Saint-Rémy-de-Provence
After some sightseeing and a spectacularly cozy lunch at Le Coude à Coude, we were off to pick up our bikes. Provence Bike is conveniently located near the Avignon center train station, and on the southern edge of the city, which is the direction we were headed. Our bikes were just 35€ each for the three days.
The owner seemed skeptical of these two American girls who didn't seem to know the first thing about the bikes and refused saddle bags to hold their backpacks — our first mistake of the trip. But with a (sarcastic?) "bonne chance!" he sent us off onto our adventure.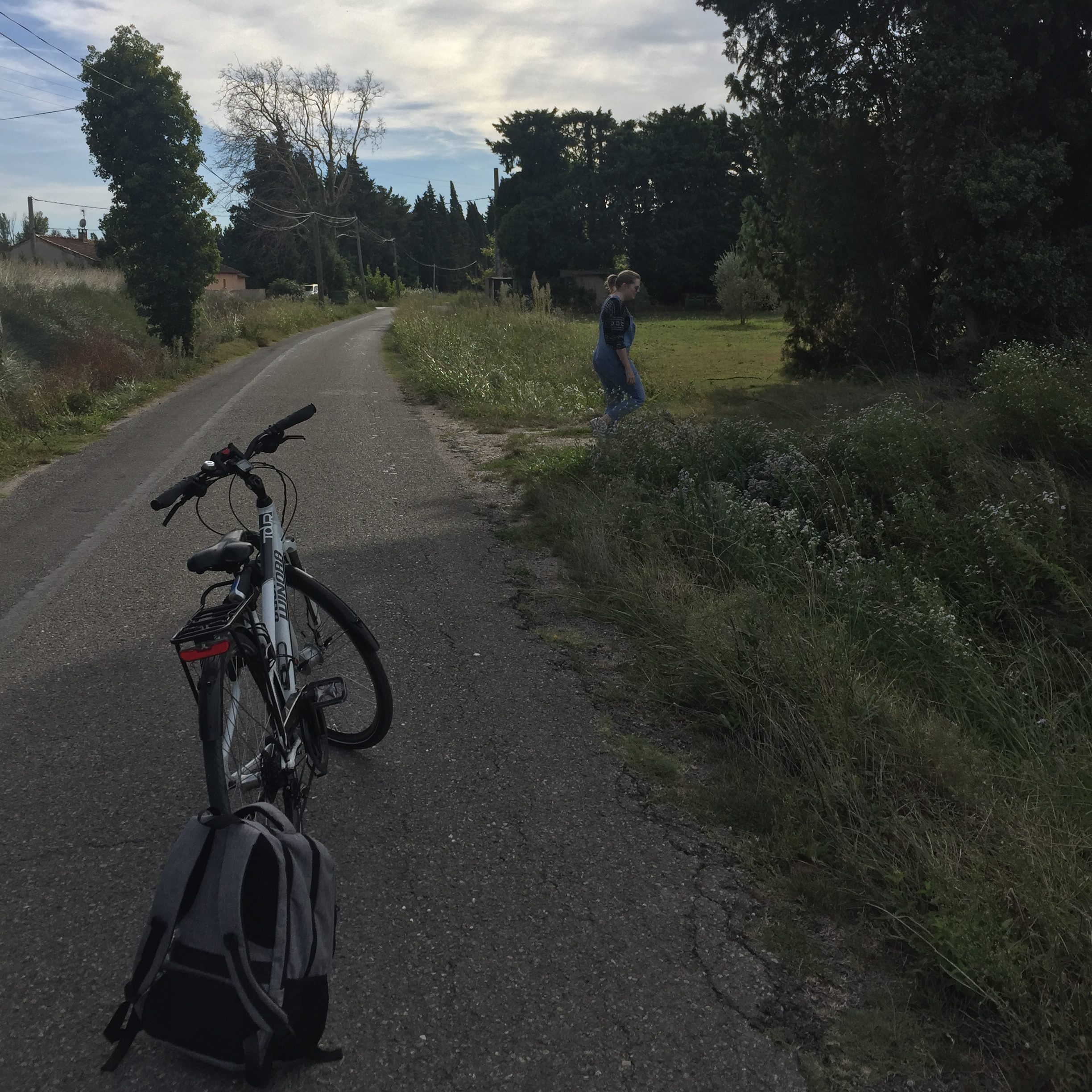 Getting out of Avignon sucks. You have to bike down busy roads and over a bridge with the famously-strong Provence winds whipping you. But once you hit the smaller road and bike route, it was some of the prettiest scenery of the whole trip. Take route D34A and follow the green signs with the cyclist on it. Including stopping for photos and ten minutes of going the wrong way, it took us about two hours to get down to our hotel outside Saint-Rémy.
We stayed at Le Mas des Figues. (A "mas" is a provincial farmhouse — you'll see the word everywhere in the region.) I would reccommend — the place is charming and the gardens are full of the owner's artwork and the breakfast is glorious. However it is a 20 minute bike ride outside of town, so do keep that in mind.
DAY TWO: Saint-Rémy-de-Provence to

Fontvieille

to Arles
Waking up on day two, we became aware of our biggest error of our adventure: not dressing properly. In my head, 2-3 hours of biking a day was a cinch and I could do it in jeans. Not the best choice. We were experiencing some butt soreness, and I regretted blowing off a friend's recommendation that I purchase some padded bike shorts. But we had no choice but to power through the discomfort and forge on.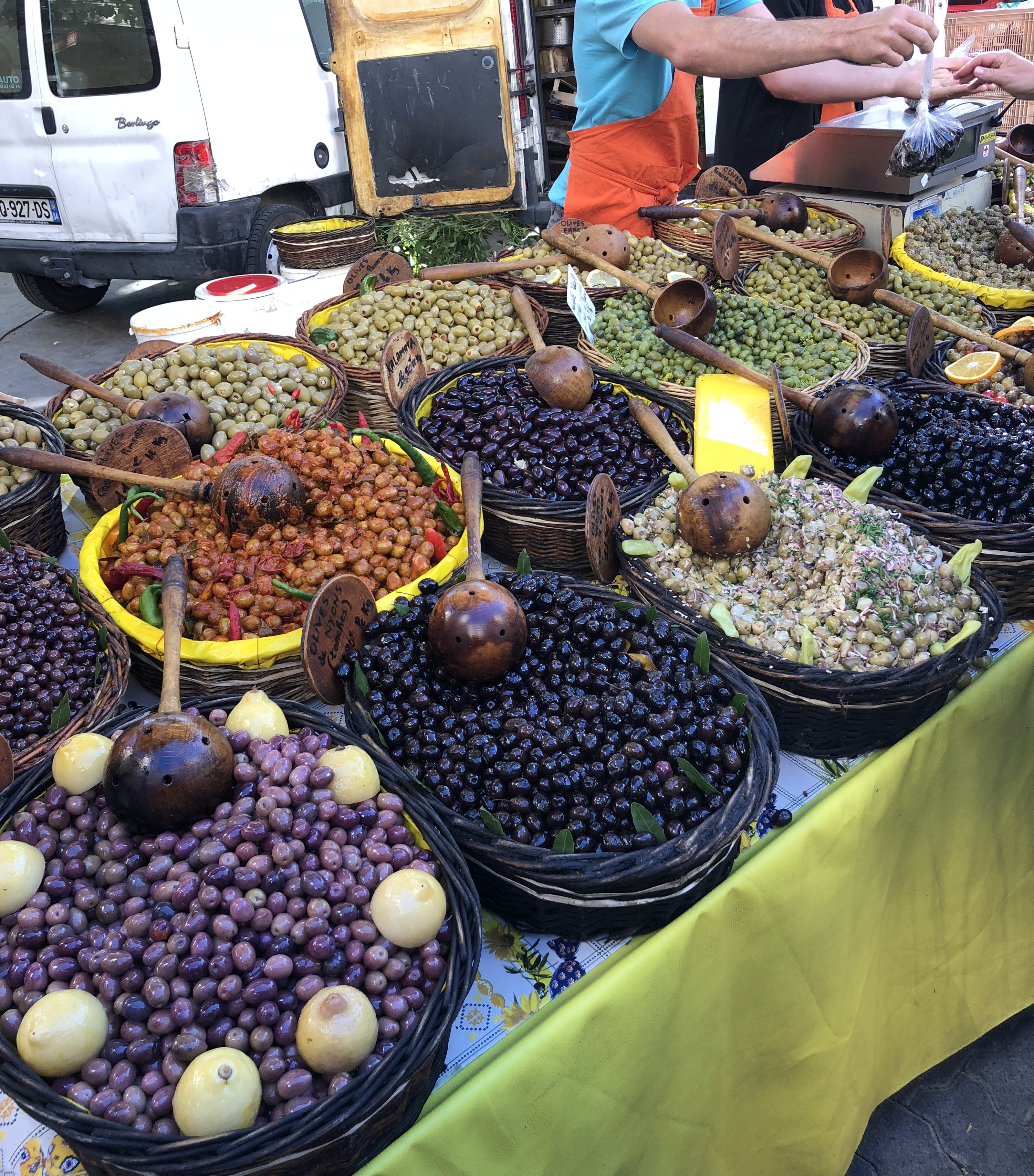 We were lucky to be in Saint-Rémy on Wednesday morning for the Grand Marché Provençal, which was a highlight of the trip. We chained the bikes to a pole and feasted our eyes on the olives, herbs, honey and other local treats. We also purchased more than we should have considering we were carrying everything on our backs like mules.
More experienced and pain-tolerant bikers would at this point head to the lovely village of Les-Baux-de-Provence. But Les-Baux is on the top of a hill, and we were sticking to "flat as a crêpe" routes. So we instead went around the Alpilles hills, biking on the vieux chemin d'Arles. Along the way, we rolled up to Mas Carlin, a tiny independent winery run by a lovely older French lady who was very sweet to these two sweaty Americans who knocked on her door unannounced. I added a bottle of wine to my increasingly heavy backpack. (If you don't speak French, try Domaine Dalmeran which has English-speaking staff.)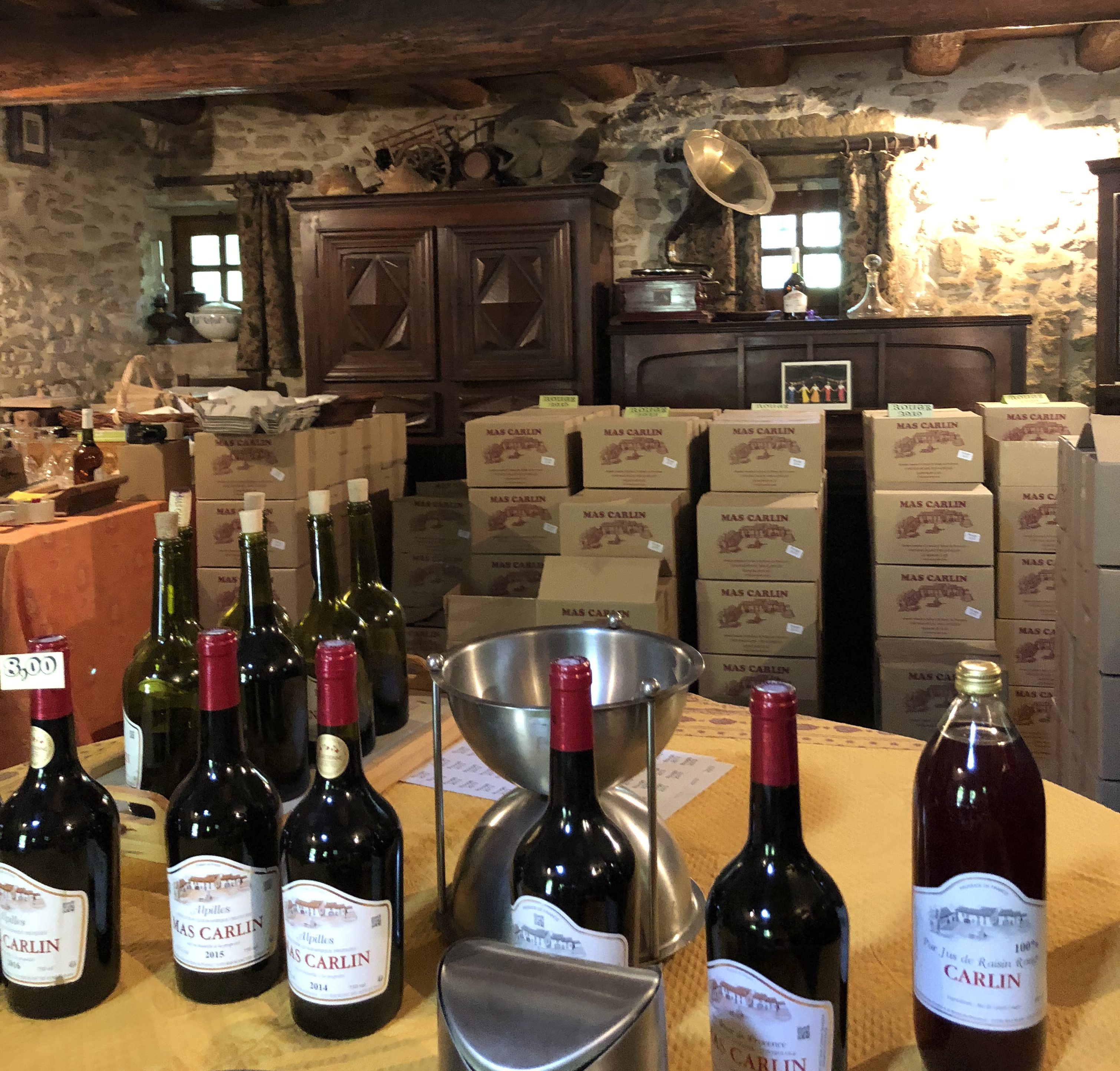 Next stop: Château d'Estoublon, famous for producing the best olive oil in France. We took route D32 to D33, then merged onto the unpaved chemin de Saint-Jean to make our way to the fancy château. We partook in olive oil and wine tastings (both free of charge) before buying even more heavy stuff to put in our backpacks (we never learn). In spite of our somewhat raggedy appearance, the staff was extremely nice to us and encouraged us to take a walk around the grounds to view the olive trees, vines and chapel.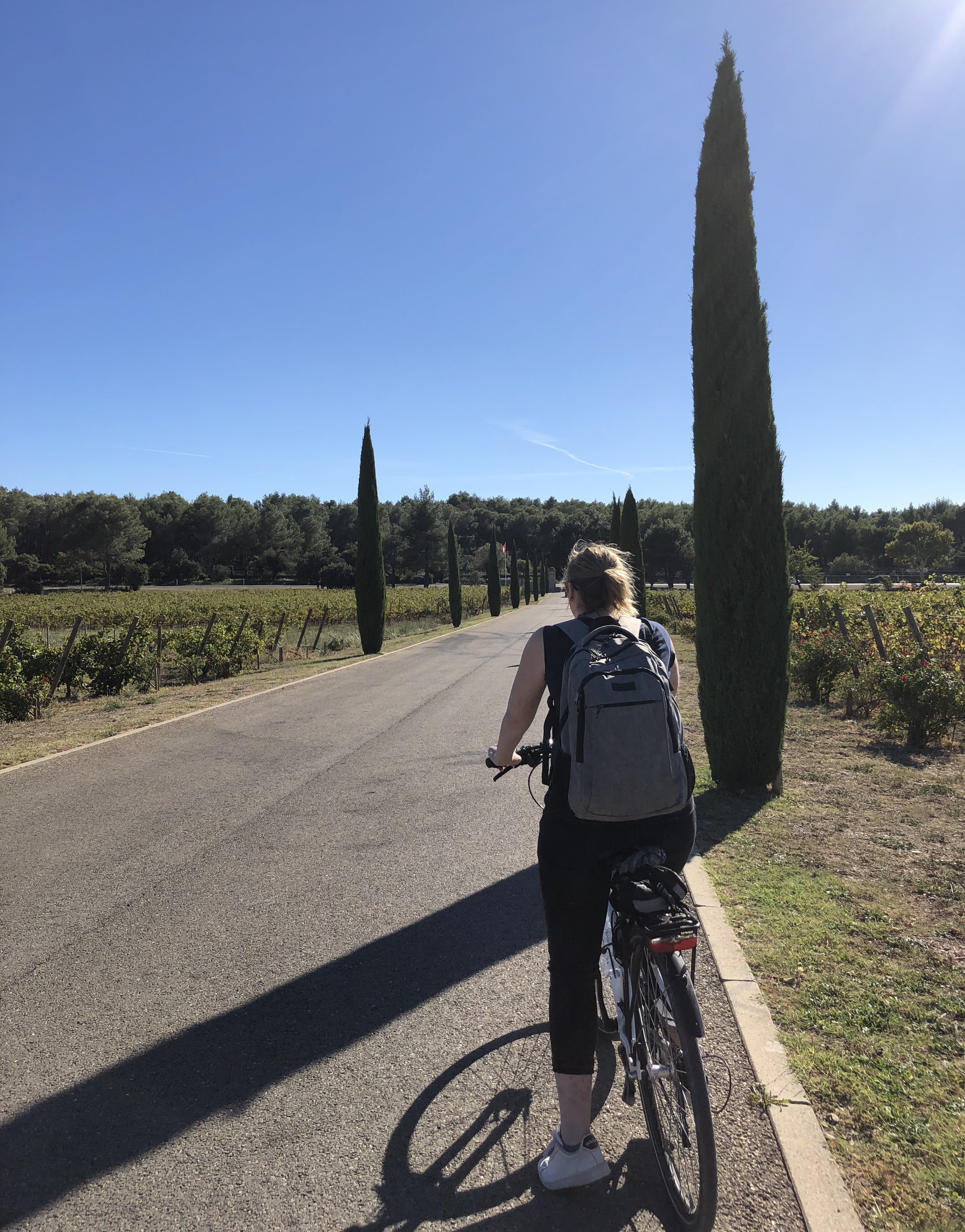 At this point we made our way to the city of Arles, but if I had to do it again, I would have skipped this town and headed closer to the twin villages of Beaucaire and Tarascon. Arles is stressful to bike in and out of and isn't nearly as charming as the small villages in the region.
DAY THREE: Arles to Beaucaire to Avignon
I will gloss over Arles and our less-than-enjoyable journey out of the town and take you straight to Beaucaire and Tarascon, which are little gems on either side of the Rhône river. Boasting dueling castles, these two villages offer sweeping views of the river and cobblestone streets to meander through. Tarascon is also the home of the Tarasque — a mythical turtle-esque monster that, legend has it, ate people, sunk ships and terrorized the village until being tamed by Saint Martha. There is a great statue of this guy outside the castle.
In Beaucaire we also had the best meal of our trip at L'epicerie De Cecile. While enjoying the decor and ambiance of a friend's provincial kitchen, we ate like kings for a grand total of 33€, including wine. A must-visit.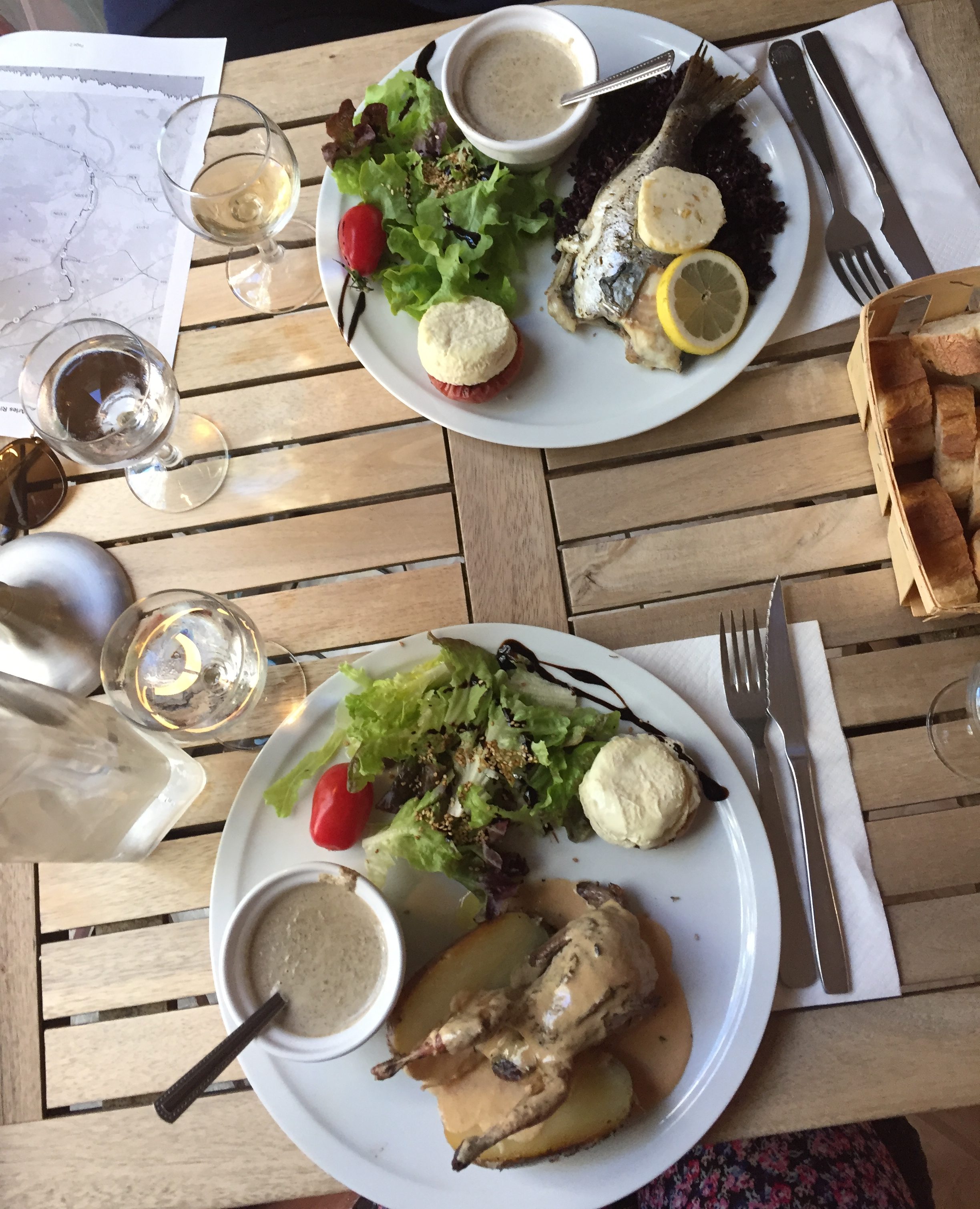 From here we began our final, ill-fated leg of the trip. From Tarascon to Avignon take routes D183 and D183A to D35 which will take you just south of Avignon. Or it could take you to the village of Barbantane, which is where our journey met it's untimely end.
Just 30 minutes out from success, my sister started lagging badly behind me. I pulled over and yelled at her to pick up the pace. She shouted back, "it's gotten so hard for some reason!" and I knew this couldn't be good. Low and behold, her front tire was completely flat. After a failed attempt to pump it back up and an incredibly embarrassing attempt to patch the outside of the tire, I anxiously weighed my options on the side of the road…with an hour to go before the bike shop closed:
Watch a YouTube video on how to fix a bicycle tire and hope I have supernatural talent to master it on the spot.
Hitchhike.
Call the bike shop and sound pathetic and hope they will rescue us.
After my sister howled in opposition to hitchhiking, and I realistically appraised the likelihood of me changing a bike tire for the first time in my life, I made the call. In my frantic French, I explained the situation and where we were, and waited for a rescue.
Luckily we were only a 20 minute drive away from the bike shop. The co-owner who picked us up gave us a light chastising for renting bikes without knowing how to change a tire, but she was sympathetic to our plight and generously dropped us at the Avignon TGV station. The bike company also didn't charge us a rescue fee, which was very nice of them (
merci Provence Bike!
).
We biked nearly 100 miles in three days, only to fail just six miles from our destination. Still, we felt proud of ourselves and our ability to tackle this trip all on our own. And so, with the bikes forever behind us, we said cheers to our victories and defeats.
LEARN FROM OUR MISTAKES
Athletic wear and padded shorts are your friend, even on short bike trips.
Learn how to change a tire if you are planning to go it alone.
Don't be a hero and carry all your stuff on your back. Pony up the extra 10€ for the saddle bag.
I would recommend getting a mount for your phone to put on the bike. We had to stop more because I needed to pull my phone out of my bag to check we were on the right path still.
WHAT WE GOT RIGHT
We didn't go in July or August, the months that are the most busy, expensive and hot. June and September are popular biking months — but October is still a great time to go.
Do stay on small roads as much as possible. It may take longer, but it will be much more enjoyable and show you the quaintest parts of Provence.
Leave yourself time to take detours, stop for pictures and enjoy the scenery. No point in doing a trip like this if you have to rush the whole time.
WEAR SUNSCREEN. You will be in the sun a lot on these roads.
Eat and drink like a local. Taste the local wines and enjoy the local dishes — all of which are very herbal and feel like home-style country meals. Save the fussy, fancy restaurants for another trip.
Have you biked in Provence? What was your experience like? Leave a comment and share your route!
---
---