How to Get Your Securité Sociale & Carte Vitale in France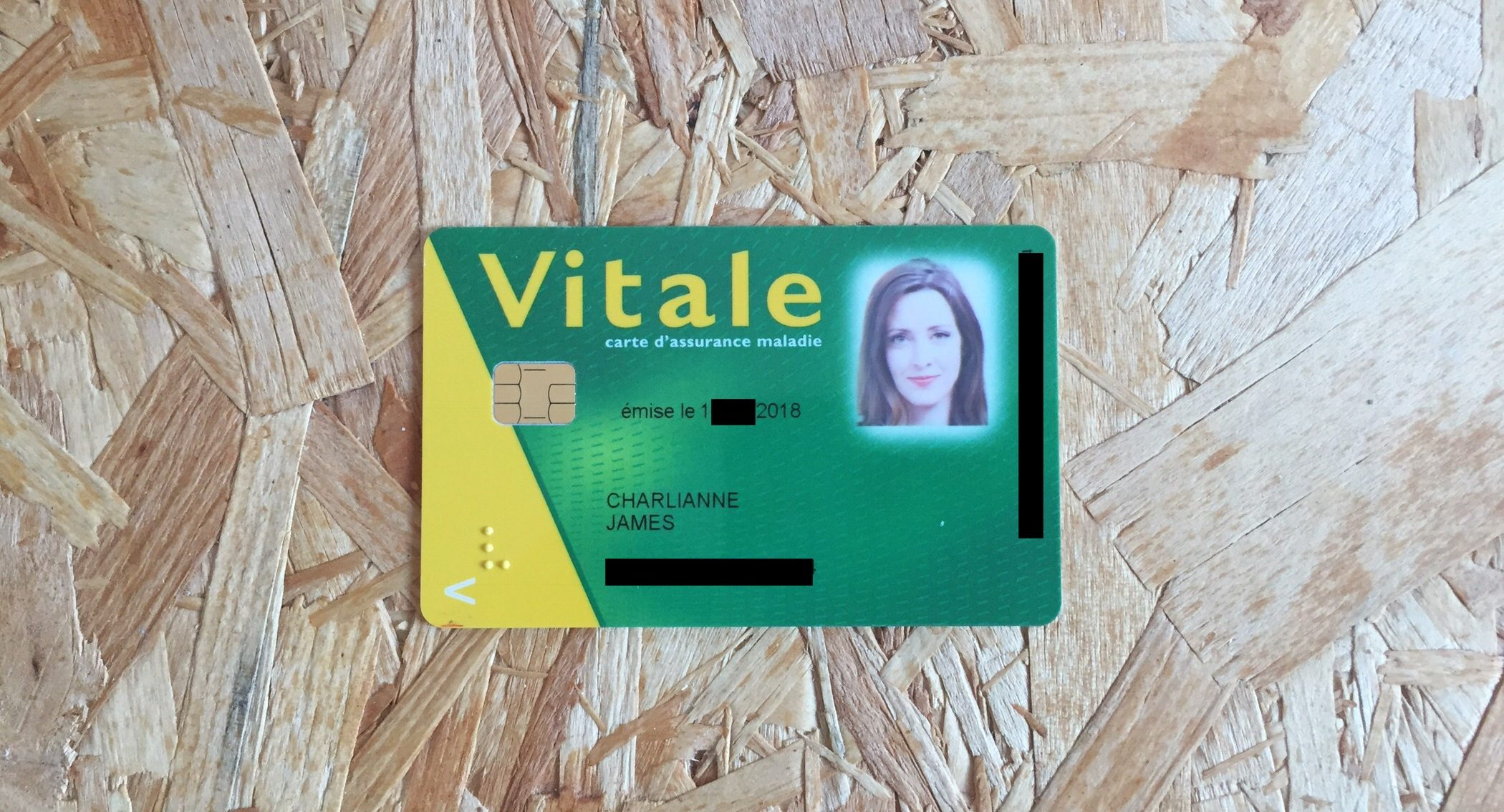 Once you've lived in France for three months and established residency, you're eligible for French national health coverage — Woohoo! But to reap all the benefits, you'll first need a numero de securité sociale and a carte Vitale.
I write mainly about the immigration process for American spouses of French citizens — but eligibility for securité sociale health benefits no longer relies on being married to a French person (this status used to be called "Ayant Droit").
Starting January 1, 2016 France put in place a universal system of healthcare called Protection Universelle Maladie (or PUMA) for anyone who works or lives in France. Now everyone who is here for three months or longer and has a proper visa can get a carte Vitale. So I requested my securité sociale benefits as a resident and not as my French husband's wife. Here's how I did it.
BEFORE WE START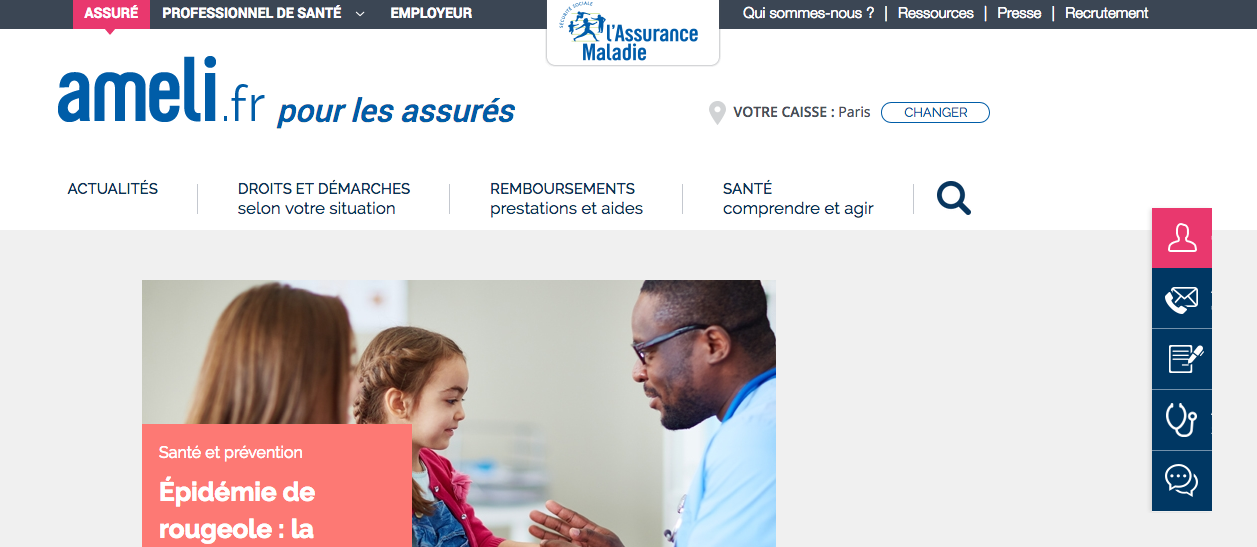 A few helpful things to know before beginning this process:
Sécurité Sociale is the French healthcare system and your numero de sécurité sociale is your ID number only for the healthcare system. (Not to be confused with how your American social security number is used.) You'll use this at the doctor's office, dentist, when buying glasses and for other health-related expenses.
Carte Vitale is a physical card with a chip in it that you use to pay and identify yourself for healthcare. It has your photo on it as well.
This whole process is in French, so if your language skills aren't good, you'll likely need someone to help you — either your partner, a good friend or someone you hire.
Ameli.fr is the website portal for the French health insurance program.
CPAM stands for

Caisse Primaire d'Assurances Maladie

, and is the local department level of the national health insurance adminstration.
Unless you are already working in France, you'll need to live here for three months to establish residency before you apply.
You need a French bank account in your name. It is possible to get a sécurité sociale number without one, but you can't get paid back without one so there's no point.
If you have a job, your company HR department can also likely help you with this process.
THE APPLICATION FORM

First step is to fill out the health benefits application form – formulaires 736 Demande d'ouverture des droits à l'assurance maladie.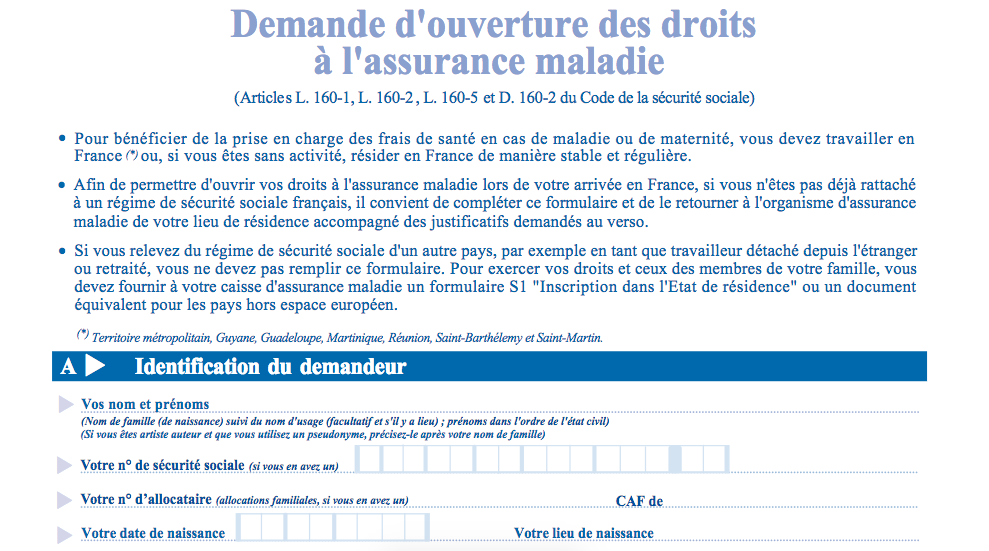 Let's go over each section.
SECTION A: Your personal info
This is pretty straightforward identifying information, but there are a couple lines that could be confusing.
The second point asks for your sécurité sociale number, if you have one. You obviously don't since you're reading this article, so leave it blank. This form is used for everyone applying for PUMA including people who may already have a number but are changing their status.
The third point asks if you have a numero d'allocataire, which is another ID number used for social welfare benefits. You probably don't have this — just leave it blank.
SECTION B: Your employment status
If you have a job, check the first box and put your title and type of contract. If not, check "sans activité" and move on.
SECTION C: Swearing you filled out your own form
Date and sign (as long as it's actually you of course). Don't forget order for dates is DD/MM/YYYY here in Europe.
***TIP: If you don't have a printer, you can go to a CPAM information point (borne multiservices) and print there.
SUPPORTING DOCUMENTS
You need to send a number of documents along with the application form. You can find all the details in French on the second page of the application form, but here it is in plain English:
A copy of your passport
A copy of your visa long séjour valant comme titre de séjour (VLS-TS) — or titre de séjour or carte de séjour or carte de résident depending on what status you have.
Birth certificate with

apostille.

The added apostille means it is certified or authenticated, and this was an extra I had to ask for specifically when I ordered my birth certificate. We did not get the birth certificate translated, we sent it in English. I've read that sometimes they ask for a translation later, but they didn't for me. I also believe they sent it back to us after.

If you have a job, you need to send a copy of your employment contract or last payslip.
Proof you have lived in France more than three months. This could be a copy of your lease, or three successive energy, phone, internet or water bills in your name, or an

attestation d'hébergement

from your spouse (or whoever owns the home you live in) saying you live with them. I used the

attestation

since I didn't have a job at the time and none of the bills were in my name. If you go that route, also send in a lease or three successive bills in your spouse's name, as well as a copy of their ID to be safe.
Your

relevé d'identité bancaire

(RIB) so you can get reimbursed. This is your French banking account routing information and should include the IBAN number.
***TIP: If you have questions, contact your LOCAL caisse (department office) that handles where you live (mine is Caisse d'assurance maladie de Paris). If you call the global number it charges you by the minute. There is an international number also if you aren't in France.
WHERE TO SEND IT
You have to mail all of these documents in, it is not possible to do it via email. It is also possible to apply in person at your local CPAM office.
If you go the mail route, you must send everything to your LOCAL CPAM office. Click here and then put your zip code into the pop up to find yours.
If you live in Paris, this is the address: Assurance Maladie de Paris, 75948 PARIS CEDEX 19
---
Did this guide help you?


---
TIMING
You can expect to receive a temporary number first and relatively quickly — mine came in three weeks. You can use this immediately to get reimbursements, but you will have pay in advance and do everything manually on paper (using une feuille de soins). You can not set up a personal Ameli account with this number.
2-6 months after applying you can expect to receive your permanent number. I got mine about 3.5 months later. Now you can open an Ameli account and request your physical carte Vitale.
NOTE: I have heard that you will get a number quicker if you have a job because your employer sends a letter to the caisse saying you work for them and requesting the number. This could be an expat legend, but I got my permanent number just a few weeks after starting a job, so I'm inclined to believe it.
GETTING YOUR CARTE VITALE

You have two options for requesting your carte Vitale once you have a permanent number.
When they send you the permanent number, they will include a paper form for you to fill out, attach a photo to and send back to request your carte Vitale.
Open an Ameli account, then wait for your temporary access code to come in the mail (yes, they have to mail it to you). Once you have access to your account you can upload a picture for the card and request it directly in the portal.
It took me about a month to get my carte in the mail.
NOTE: Before you get your physical card you can still get reimbursed but you have to mail in a form (une feuille de soins), while with the carte Vitale it is automatic.
FINAL STEPS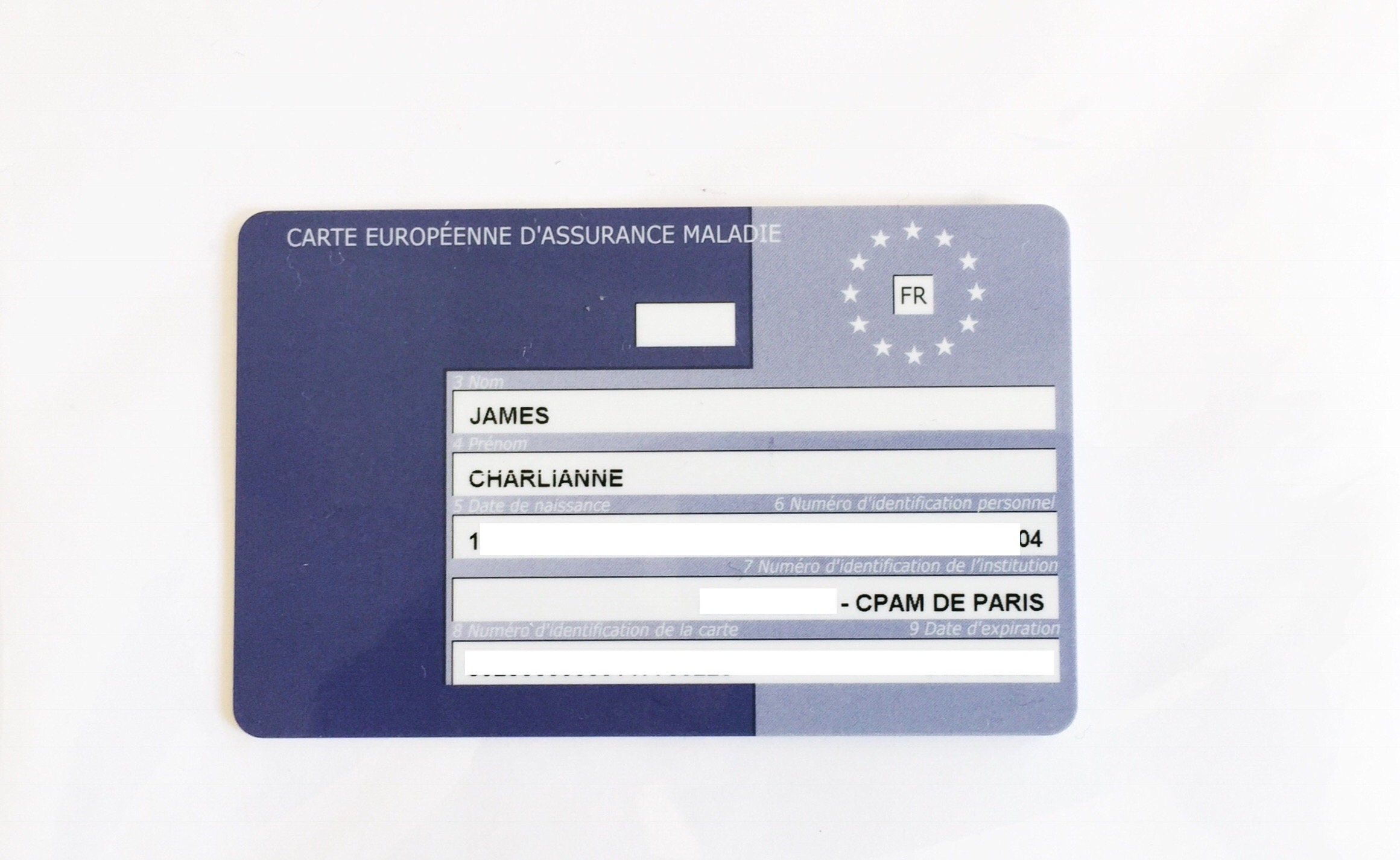 You can also order a carte européenne d'assurance maladie (European health insurance card) through your Ameli account as well. This is useful for if you travel in the EU and ever get sick.
To be reimbursed the full amount possible, you'll need to declare a médecin traitant (a.k.a. a general practitioner or primary care doctor). For helping finding one check out this article.
And finally, if you have additional health insurance (a mutuelle) through work or private coverage, you need to link that in your Amelie account as well.
---
Did this article help you obtain your securité sociale? Please say thank you by buying me a coffee to help keep the blog going!


---
---