French Favorites: Basque Espadrilles
Next up in my "French Favorites" series: handmade espadrilles from the French Basque region. This traditional shoe is chic and inexpensive and has become my go-to summer footwear. It's a must-have souvenir from Biarritz — customizing your own and watching the ribbons being sewn-on really adds to the appreciation of the craft.
A friend first gifted me a pair last summer after she visited Biarritz, but couldn't remember the name of the shop where she got them. So when I took my own trip to the Côte Basque this September, finding them again was at the top of my agenda. Not many places hand-sew on the ribbons like this, but I got lucky and Les Sandales d'Eugénie was just the third shop I popped into.
Here's how it works: Choose your shoe fabric from an array of colors and stripes. Then pick out a ribbon color, and they will hand sew that ribbon on in the traditional basque style. See a snippet for yourself in this video I shot:
Espadrilles will forever be tied to the Basque Country and Catalonia, and have humble roots. Before becoming the it-shoe of the summer for French fashion girls, they started as peasant footwear all the way back in the 1400s (wealthy people wore leather shoes). As Basque soldiers battled for Catalan independence, they continued to wear espadrilles, in lock step with the working-class people they were fighting for. In the time since, espadrilles have become popular across the globe — from freedom fighters to presidents to celebrities.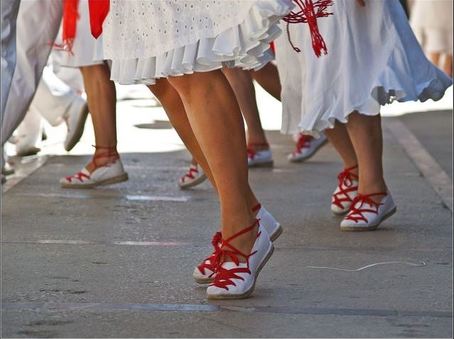 The traditional color combination is bright white with a red ribbon, but I find that a little too costumey for everyday wear. I went with off-white and a tan ribbon to replicate the ones my friend bought me, but any combination your heart desires is possible.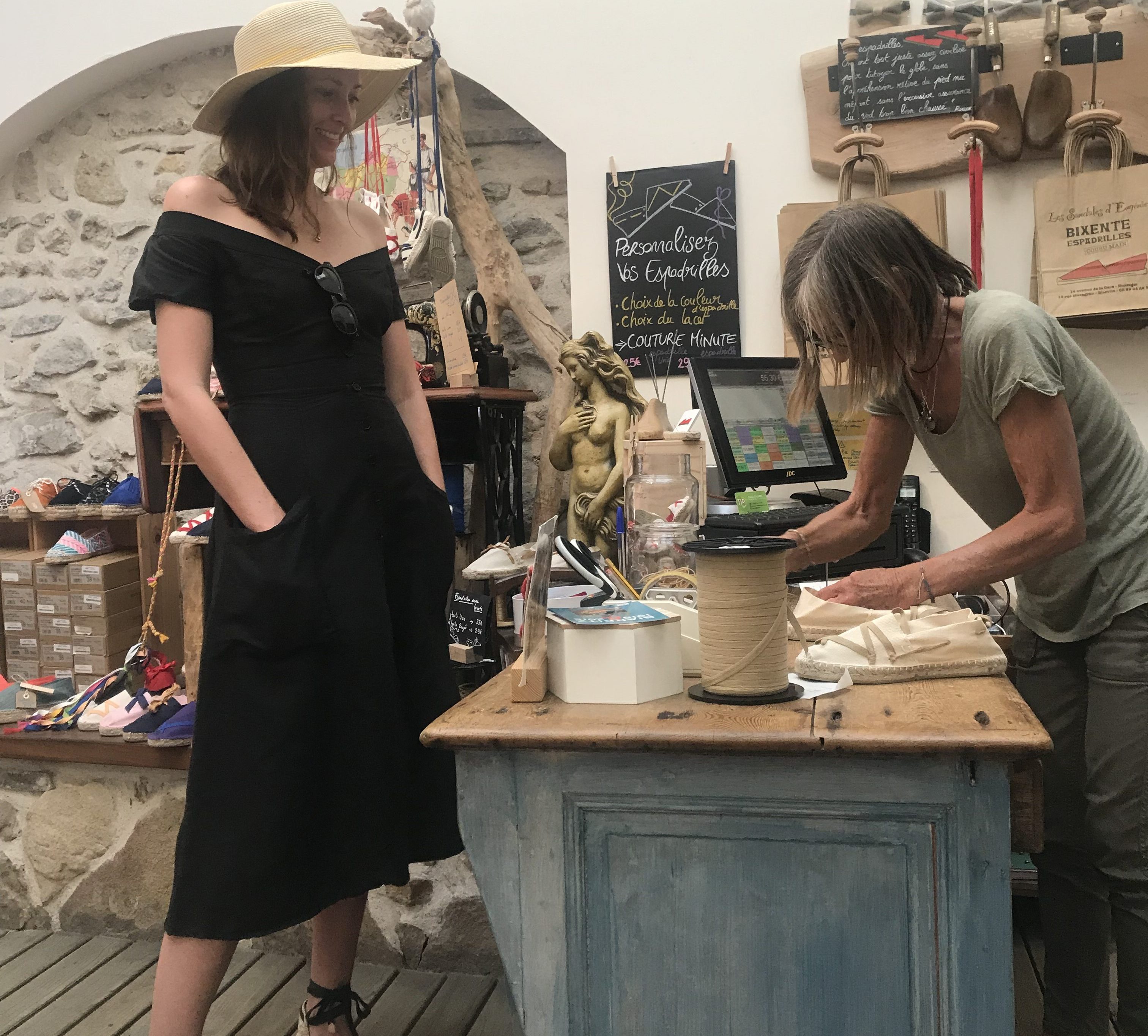 There are also multiple ways to sew the ribbon on, or you can choose a thicker ribbon just goes around the opening of the shoe so you don't have to tie it at the ankle to wear.
If you are lucky enough to find yourself in Biarritz, be sure to stop by Les Sandales d'Eugénie | 18 Rue Mazagran, 64200 Biarritz. At just 25€ a pair there, you can afford to buy two (I did!) or as gifts for family and friends. Check hours, because the shop takes a sieste in the middle of the day for lunch.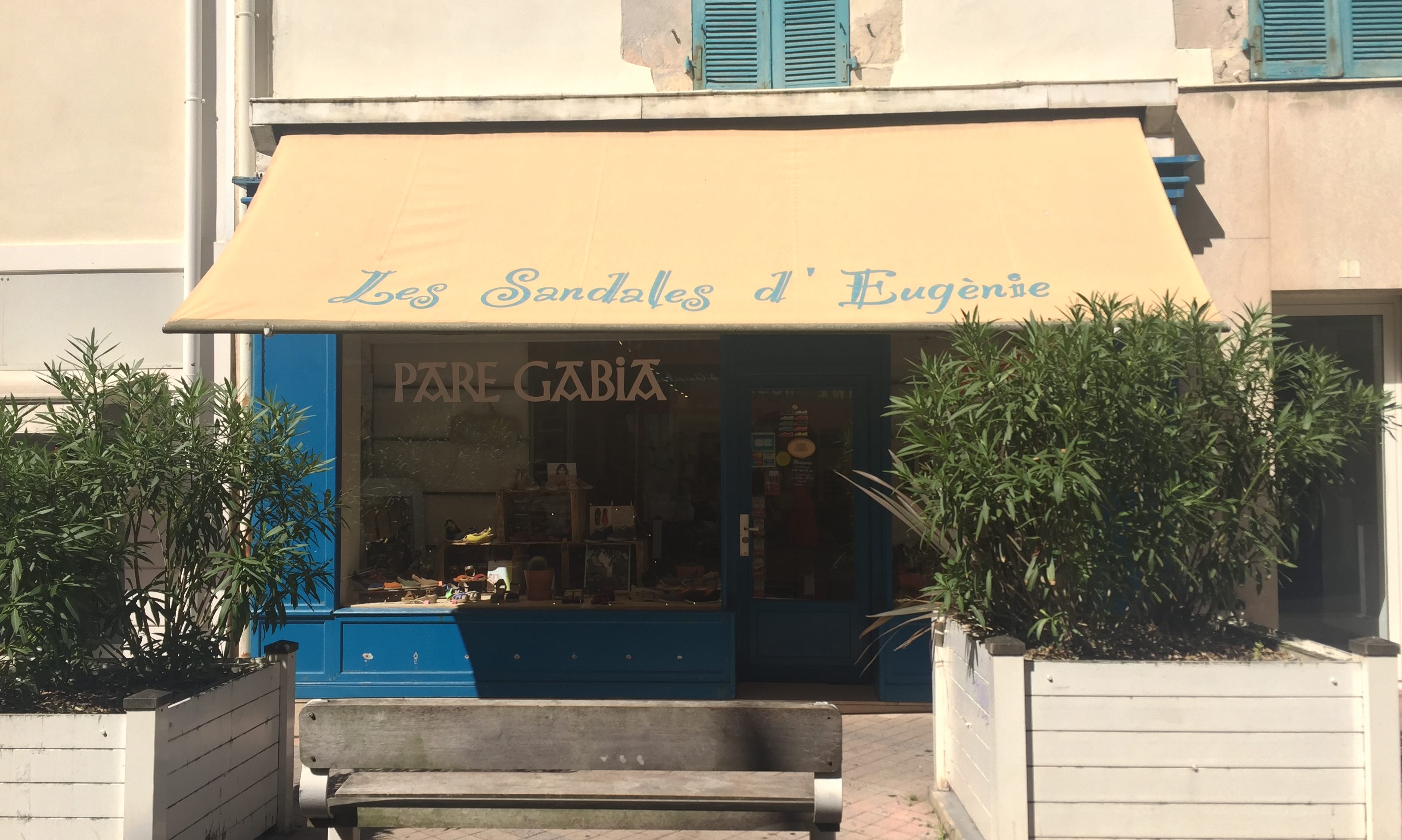 Do you know of another shop that sews the ribbons on this way? Or have another interesting story about these shoes? If so, please share with me by leaving a comment!
---
---