Visa Long Sejour guide for American spouse of French citizen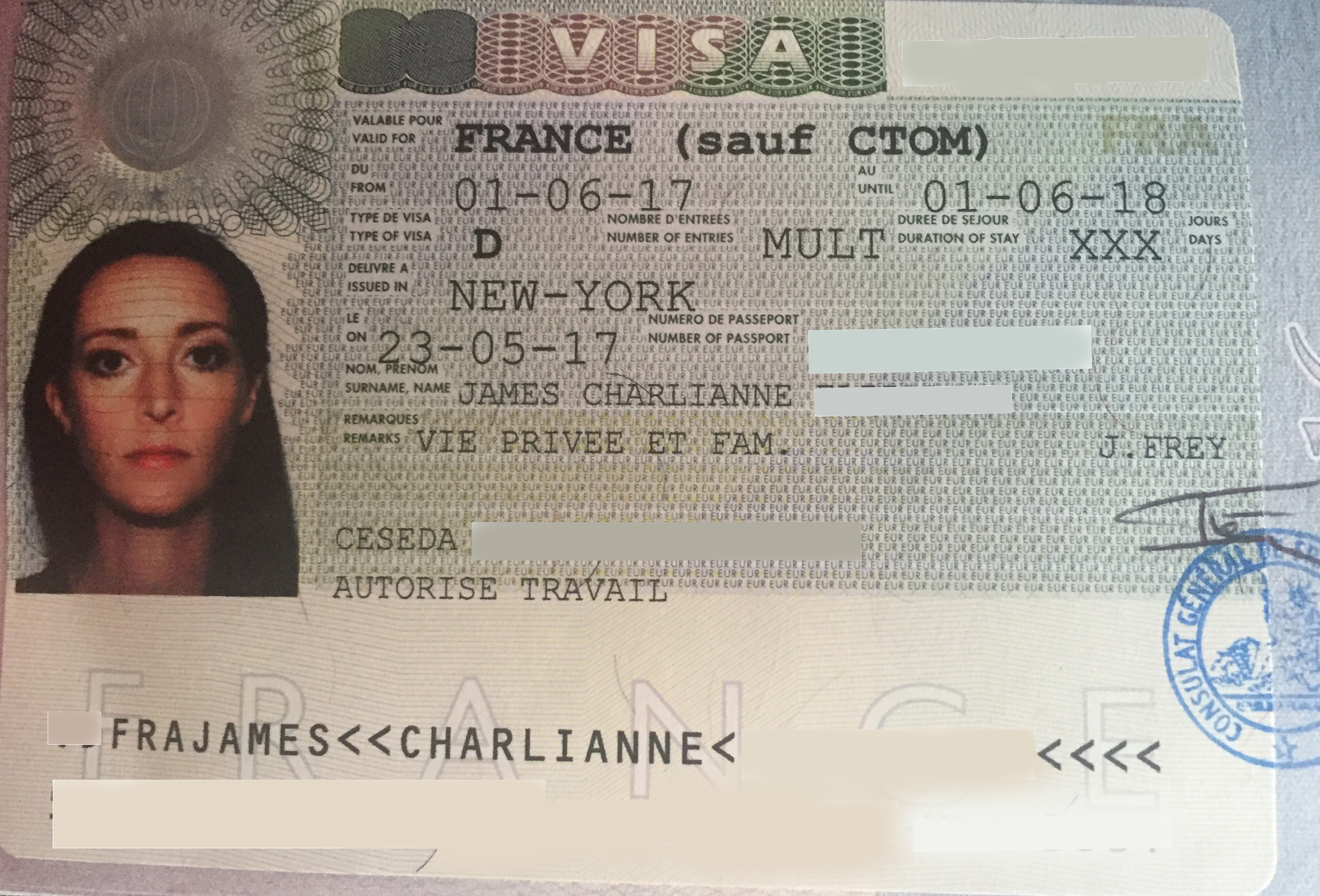 UPDATE 2019: Since this post first came out, the French government has started outsourcing US visa applications to a company called VFS Global.
The company has instructions on how to apply for French visas here. In the comments of this article, you can find readers sharing their experiences with the VFS Global system.
Original post follows. Good luck! -Charli
---
When we decided to move to Paris, I went in search of stories about the Visa Long Sejour process and found surprisingly little online. So I decided to share my own experience with you. Good news: The visa process is quick, relatively easy and FREE!
BEFORE WE START
This info is for American citizens living in the U.S. who are married to a French person and moving to France. Before you move, you'll need the Visa Long Sejour (long stay visa) which is good for one year, will allow you to live and work in France and give you time to settle in France before you convert your status to Titre de Sejour.
I started the Visa Long Séjour process in April 2017 in New York City and am currently in Paris, going through the next steps of the immigration process for the Titre de Séjour (click here to find that info).
Though it hasn't been that long since I went through this visa process, you should of course double check everything on your consulate website as the process or requirements can always change.
WHERE YOU GET THE VISA
---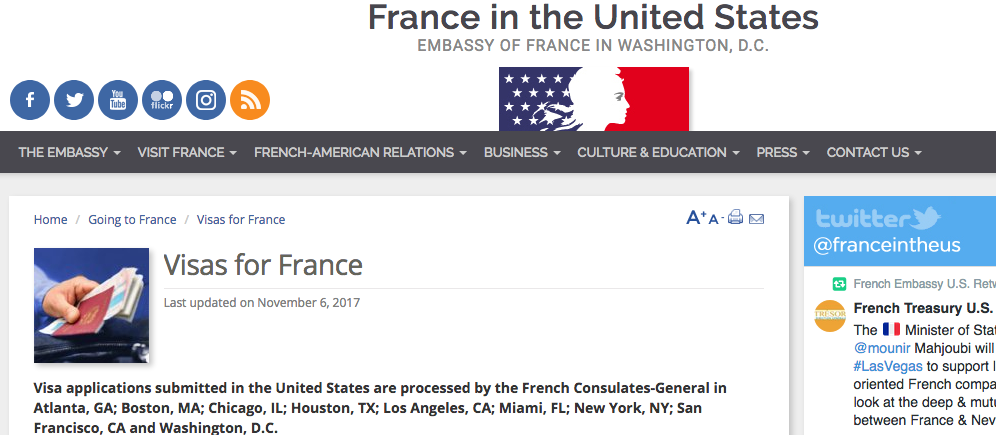 ---
Visas are handled by the French embassy and consulates in the United States. If you live in or near Washington, D.C., New York City, Chicago, San Francisco, Los Angeles, Houston, New Orleans, Miami, Atlanta, or Boston it will be easier for you because you need to go into the office once to apply for the visa, and again to go pick it up. Some consulates will mail your passport with the visa and stamped OFII form back to you if you bring a self-addressed stamped envelope. So if you don't live close by, call and ask about that to save yourself a second trip.
Check this map to see which consulate handles your state and be taken to the website.
MAKE AN APPOINTMENT
You will need to make an appointment online with the consulate that handles your state. There was a several weeks wait in New York for an appointment, so I recommend making one for as soon as you know you'll have all the necessary documents.
You will be able to change the appointment if needed, as long as there is availability.
The appointment is only for yourself. Your spouse doesn't need to, and can't go with you inside the consulate (at least this was the case in NYC).
WHAT YOU WILL NEED
Most important: You need to have your marriage certified in France (to have a French marriage certificate and Livret de famille) before you can get this visa. If you haven't done that yet, get started ASAP because it takes a little while. You don't need to actually go get married in France– we got married in New York and had the marriage certified through the French consulate.
Here is a list of what I brought to my appointment. Very important: You have to bring copies of all the forms and documents. We will go over the forms more below.
A print out of appointment confirmation (to show security)
Your passport (copy of the identification page)
Long Stay Visa application (available in English and French)
O.F.I.I. form (top portion only filled out. Only available in French)
Livret de famille (copy of the pages with your information on it)
2 passport photos (2 x 2)
French marriage certificate, less than two months old. (Transcription du mariage sur les registres de l'état civil consulaire français) (Order online here)
Spouse's passport or French ID (just to show they don't keep it)
DO NOT FORGET to make copies of everything, as these are what the consulate will keep.
Check out the instructions for the photos as they are specific. I took the "no smile" rule to the extreme and look a little scary, but it did the job.
There is NO FEE for this visa, which is awesome.
The person who handled my application also asked if I had a flight booked and if I has a copy of my flight ticket. I didn't, and it wasn't an issue, but you may want to bring a print out if you have one in case.
APPLICATION AND O.F.I.I. FORMS
The Visa Long Sejour application form is available in English and French, but the O.F.I.I. form is only available in French. So let's go over how to fill out these forms and any tricky parts.
Long Stay Visa Application Form: this form is pretty straightforward, but here are some pointers:
DATES: Make sure you put dates in the correct, European form of DAY-MONTH-YEAR.
NATIONAL ID NUMBER: I didn't put anything here.
EMPLOYER: If you are applying for a spouse visa, so don't need to fill out this section. That is on here because it is the same form used for long sejour work visa.
BOX 23: Check "Family stay."
BOX 27: Check "more than one year."
BOX 31: Your in-laws don't count. Only put names of your immediate family members if they live in France.
O.F.I.I. Form: this form is unfortunately only available in French, so let's go over it.
You only need to fill out the top part of this form for your appointment. The part above "CADRE RESERVE AU CONSULAT."
You still need to bring all three pages of the form to the appointment (even though the other two pages don't have your info on it.)
For your mother's "NOM DE NAISSANCE" be sure to put her maiden name (last name at birth). I accidentally put my mom's married name at first and thankfully my husband caught the mistake before my appointment.
The consulate will keep this form along with your visa application when you go for your appointment.
Below is a translation of the form.
---
Did this guide help you?

---
WHAT HAPPENS AT THE APPOINTMENT
Here is how my experience went:
I showed up 15 minutes early to my appointment, showed the security guard my ID and appointment confirmation and went through the metal detector. The security guard assigned me a number. I was told my phone must be turned off in the building. (Note for NYC applications: visas are not handled at the main consulate building, but a smaller office just around the corner on 74th street.)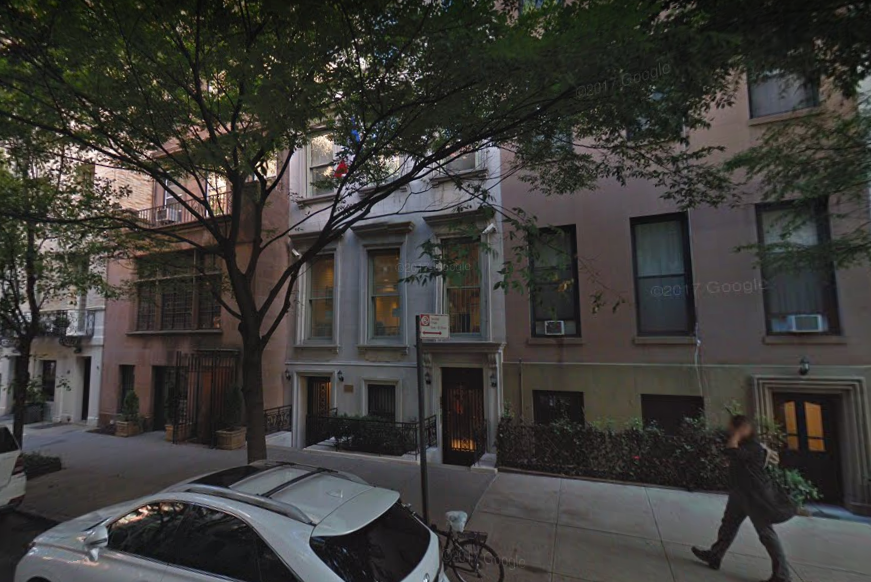 In a small waiting area, I sat with other people applying for visas until my name and number were called for the first time. At the window, the woman asked if I spoke French. I responded "yes, a little" and she spoke French to me for the remainder of the process so only say yes if you think you can answer the basic questions about your application.
I handed her my signed and dated application form, O.F.I.I. form, passport, and copies of the documents she asked me for. She asked me a few questions about my husband, living situation in France and for some reason asked how much I paid in rent in NYC. Various stamps and signatures were put on my forms. She asked if I had a ticket booked to France yet, and if I had a copy of the ticket. I didn't but it was okay. She kept all my forms, passport and copies of documents and asked me to sit down.
I waited for about 15 minutes until my name and number were called again and went to another window. There I was asked to confirm my information is all correct, told that my application is complete, given a receipt and told to come back during a specific window of time (only between 3:30-4:00pm) when my visa is ready.
NOTE: Your passport stays at the consulate with your application, so you will not be able to travel out of the country during the processing time.
WHEN DO I GET MY VISA?
I was told to wait two weeks (10 business days) for the visa to for certain be ready, though it could be ready as quickly as one week later. There is unfortunately no way to call or email and find out if it is available before you come back to the consulate. Mine was available when I came by a little bit early, about seven business days later.
The New York City consulate had a very specific half hour window during the day you could come pick up your visa. So be sure to check your receipt and instructions before you go pick it up.
In addition to your visa, be sure you also get your stamped O.F.I.I. form back.
A reader noted in the comments that someone else could pick up her passport/visa if they have the receipt and showed up at the right time. Check with your consulate to ensure this applies to your location as well if you need to do that.
NEXT STEPS
Once you have your visa, you are good to enter France and stay and work for up to a year on that visa!
Make a copy of your visa and keep track of your O.F.I.I. form with the stamp because you will need those pretty quickly for the next part of the immigration process when you get to France– converting your Visa Long Sejour into the Titre du Sejour.
For more on my experience converting the Visa Long Sejour into the Titre du Sejour, with the OFII meeting and medical appointment, click here.
Did this article help you with your immigration process? Please consider saying thank you by buying me a coffee or two to help keep my work going!

---
---