Carte de Séjour Guide for American Spouses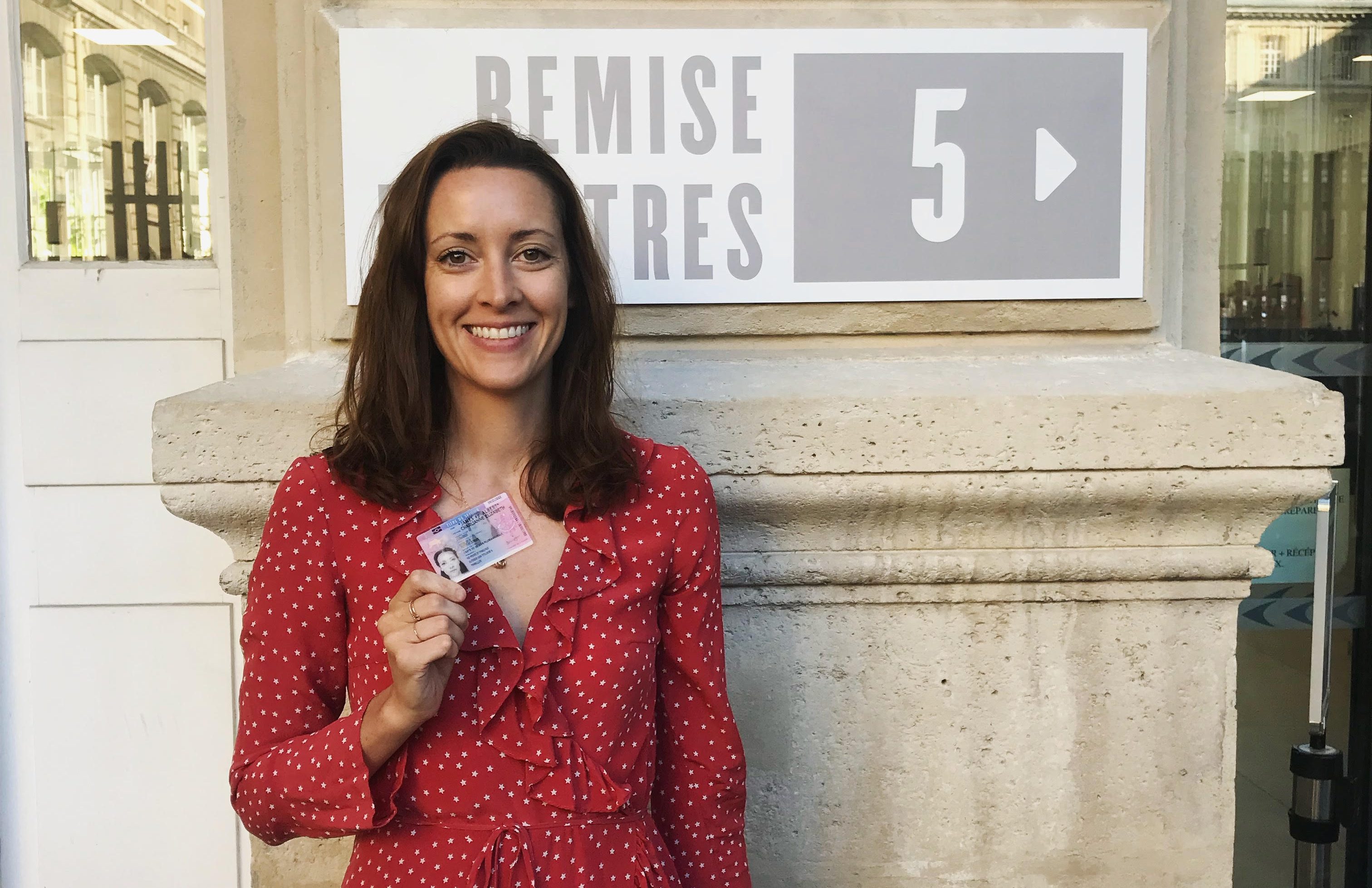 Before celebrating your one-year anniversary in France, you need to apply for a carte de séjour to ensure you can stay. What a lovely gift from the French government! However, the process of preparing begins many months before your visa expires.
In order to seamlessly transfer from a VLS-TS to a multi-year carte de séjour, you have to secure an appointment months in advance, order documents many weeks ahead of time and develop some serious organizational skills.

I'll be honest — it is a stressful process. And if your French isn't excellent, you will need the help of your partner or a friend or a professional. My French is currently intermediate, so my husband was a huge help.
This is a detailed account of my personal experience in May/June 2018 as an American spouse of a French national living in Paris. We got married in the U.S., had the marriage certified through the consulate, then moved to France a year later. The requirements for your carte de séjour application depend on your circumstances and where you are from — so make sure you have the correct information for your situation.

REQUIRED ACTIONS BEFORE YOUR APPOINTMENT
To apply as a spouse, you must have completed your OFII meeting and medical appointment to have a VLS-TS (visa long séjour valant titre de séjour) before you are eligible for the carte de séjour. You need several documents from these meetings including your integration contract, and medical check and language test certifications.
You also need to have completed your two-day La Formation Civique integration course before your appointment. You will be required to show the certificates proving you completed the two modules.
MAKING THE APPOINTMENT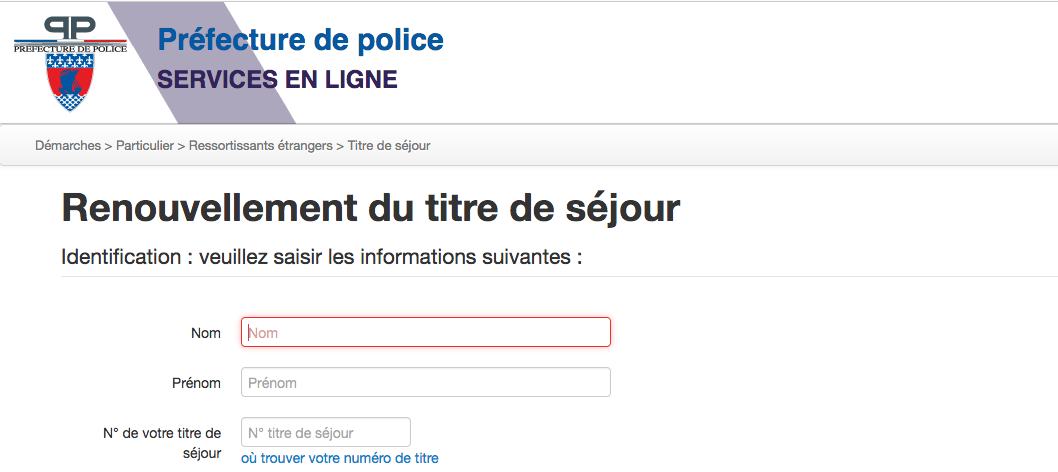 At my OFII meeting, I was told to make an appointment with the Paris préfecture de police 4-5 months before my visa expires. I would recommend looking for an appointment as early as possible. As the spouse of a French citizen, you will be applying using the "vie privée et familiale" category.

Direct link to find an appointment: Renouvellement du titre de séjour
Note: The "N° de votre titre de séjour" asked for on the appointment form is the N°AGDREF on your VLS-TS.
I recommend taking the earliest appointment possible in the morning because the wait can be hours and hours long in the afternoon, and there is a chance you could not be seen at all.
Q: What if I can't get an appointment before my VLS-TS expires?
My VLS-TS expired in June and I first applied for an appointment in January. But in Paris the first available appointment wasn't until after my visa expired. Here's what we did: We called the Paris prefecture (3430 from within France) and explained that our appointment was after the expiration date. The operator looked up availability in the system and found one in May. We then had to go back on the website and cancel my old appointment before searching again and booking the new one. This is risky because it is possible someone else could have gotten the appointment before we booked it, but this is how we got an earlier appointment.
If you can't get your carte de séjour appointment before your VLS-TS expires, you will have to apply for a récépissé (a receipt that proves you are in the process of renewing your visa) that allows you to stay until you get your carte. If your appointment is near your expiration date, you will be given a récépissé at your appointment to keep you legal until your carte is ready.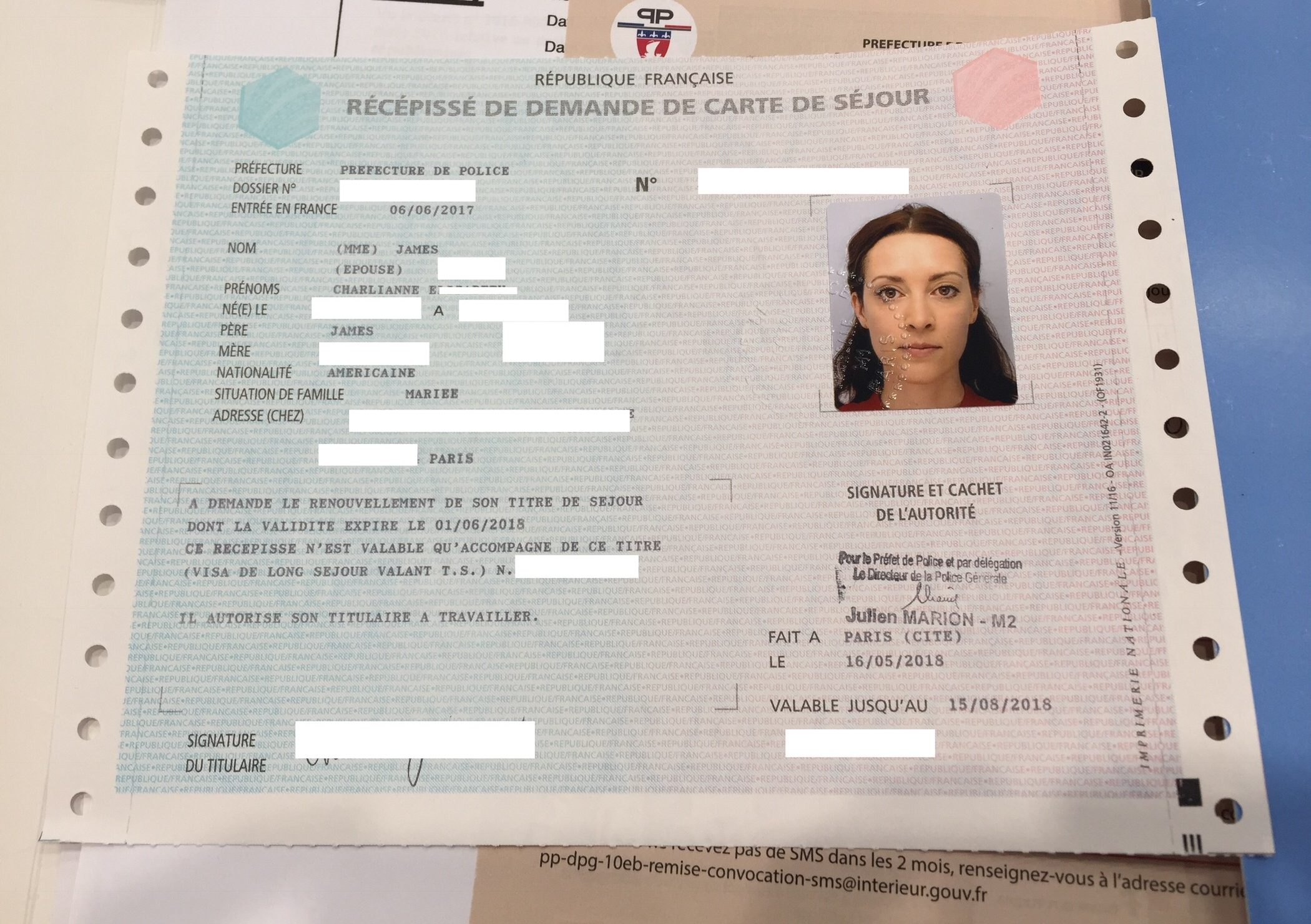 WHAT TO BRING
Welcome to the most difficult and frustrating part of this process. My biggest piece of advice is to bring as much documentation as possible. Anything and everything you have that could possibly be of interest to them. Because they can and will ask for things not on the official list. French bureaucracy at its finest.

The French Interior Ministry has a list of documents (updated 2018) and the police prefecture also has a list of documents (updated 2015) to bring. But at my appointment, the agent asked for more than what was on these lists and we ended up having to run and make copies of items.

Below is everything we brought to the appointment.
***VERY IMPORTANT: Bring the original AND a photocopy of everything***

OFFICIAL DOCUMENTS
Appointment Convocation


Titre de séjour (VLS-TS in your passport)


Valid Passport (photocopy of information page AND page with entry stamp into France)

Birth Certificate with Apostille* — less than three months old and translated by a sworn translator (here is a list of translators from the U.S. embassy). Note: I've seen some people say they used a birth certificate less than six months old and it was fine. I ordered a newer one to be safe, but if this is an issue for you, call your local prefecture to see what they will accept.


Livret de Famille (copy of page with your information on it)


Reprint of your French marriage certificate (must be less than three months old — ORDER HERE)
Your spouse's national ID card
*An apostille is a specialized certificate issued by the Secretary of State that verifies the birth certificate is legitimate for international use. I had to call and ask for the apostille specifically from my state of birth when I ordered my birth certificate.
PROOF YOU ARE LIVING IN FRANCE
Must have your name and/or your spouse's name on it.
Utility bills, no more than three months old — the official form says this can be electricity (EDF), gas, landline phone or internet, but our agent would only take the EDF bills. I would bring as many of these as you have.

Housing lease or deed

OR attestation from your housing host saying you live there, along with a copy of their ID and a lease/deed/utility bill with their name on it. (Note: If your spouse owns your home, they can't write an attestation that you live there.)

This section seems very subjective. We also brought insurance documents, bank statements, and pay stubs with my name and address on them, but they wouldn't accept those. The agent also asked for tax receipts with my name on it which we didn't have because I hadn't lived in France for a year. Luckily the EDF bills were enough.
INTEGRATION DOCUMENTS (from your OFII appointments)

Attestation de formation civique + session d'information "vivre et accéder à l'emploi en France" (completion certificates from your two French civics modules)
Formation linguistique (the document saying you passed the language exam at your OFII meeting) — I also brought additional certificates from language schools I attended but this is not required.
OFII medical examination certificate (from your medical appointment)
Contrat d'intégration républicaine (or CIR) — the integration contract you signed at your OFII appointment.
PHOTOS
3 ID photos (format 35 mm x 45 mm) — I had mine taken in one of those photo booths in the metro.
PROOF THAT YOU AND YOUR SPOUSE LIVE TOGETHER
Declaration swearing you live together (Déclaration sur l'honneur conjointe du couple attestant de leur vie commune) — this is done at the appointment, they will give you a form there to both sign.
Joint French tax statement (must have been submitted in last three months)

OR

at least the last three months of joint bank statements (this is what we used) or separate bank statements being delivered to the same address.
PAYMENT
My cost for this visa was 269€ (droit de timbre de 19€ + taxe de 250€) — but if you are in a different category of applicant, check what your fee is. You don't have to show proof of payment until you go to pick up your carte later.

You must pay using timbres fiscaux ordinaires, which you can buy via this link. Be sure to print the stamps with the QR code.
ADDITIONAL DOCUMENTS I RECOMMEND BRINGING

While not technically required, I would recommend taking the following information if you have it, because it seems they can ask for anything they want: Your employment contract or several months of pay slips (if you are employed in France), proof of your Securité Sociale health coverage (carte de vitale), any and every French document you have that has your name on it. If you have children, you will also need to bring documents related to them as well.
Don't forget to bring photocopies of everything, because they keep the copies!
---
Did this article help you?

---
WHAT HAPPENS AT THE APPOINTMENT
Great news for those of you who have been through the visa and OFII process already — unlike at those meetings, you can bring your spouse to this appointment. In fact, they have to be there to attest that you two live together.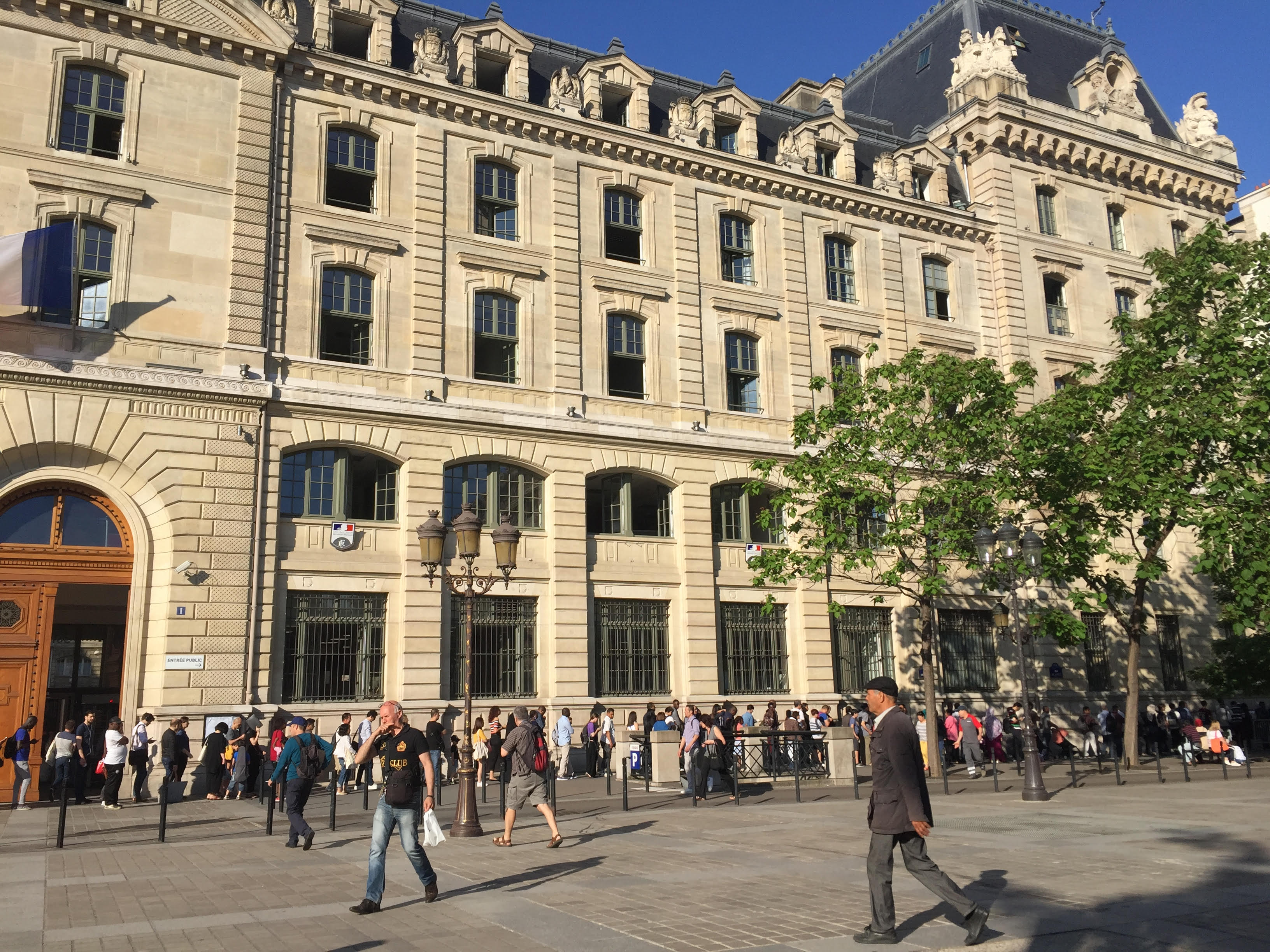 First tip: GO EARLY. I arrived 30 minutes before opening time, and the line was 75 people deep already.
At the Paris prefecture, you will wait in line, then go through security before heading to the room indicated on your convocation. The first person at the desk will check your convocation and your documents before even letting you have a number. Once you get a number, depending on your spot on the list, prepare to wait.
Second tip: Have your documents well organized. This will save you time and get you out of there quicker.
Third tip: Bring a snack because you could wait for hours depending how many people are in front of you.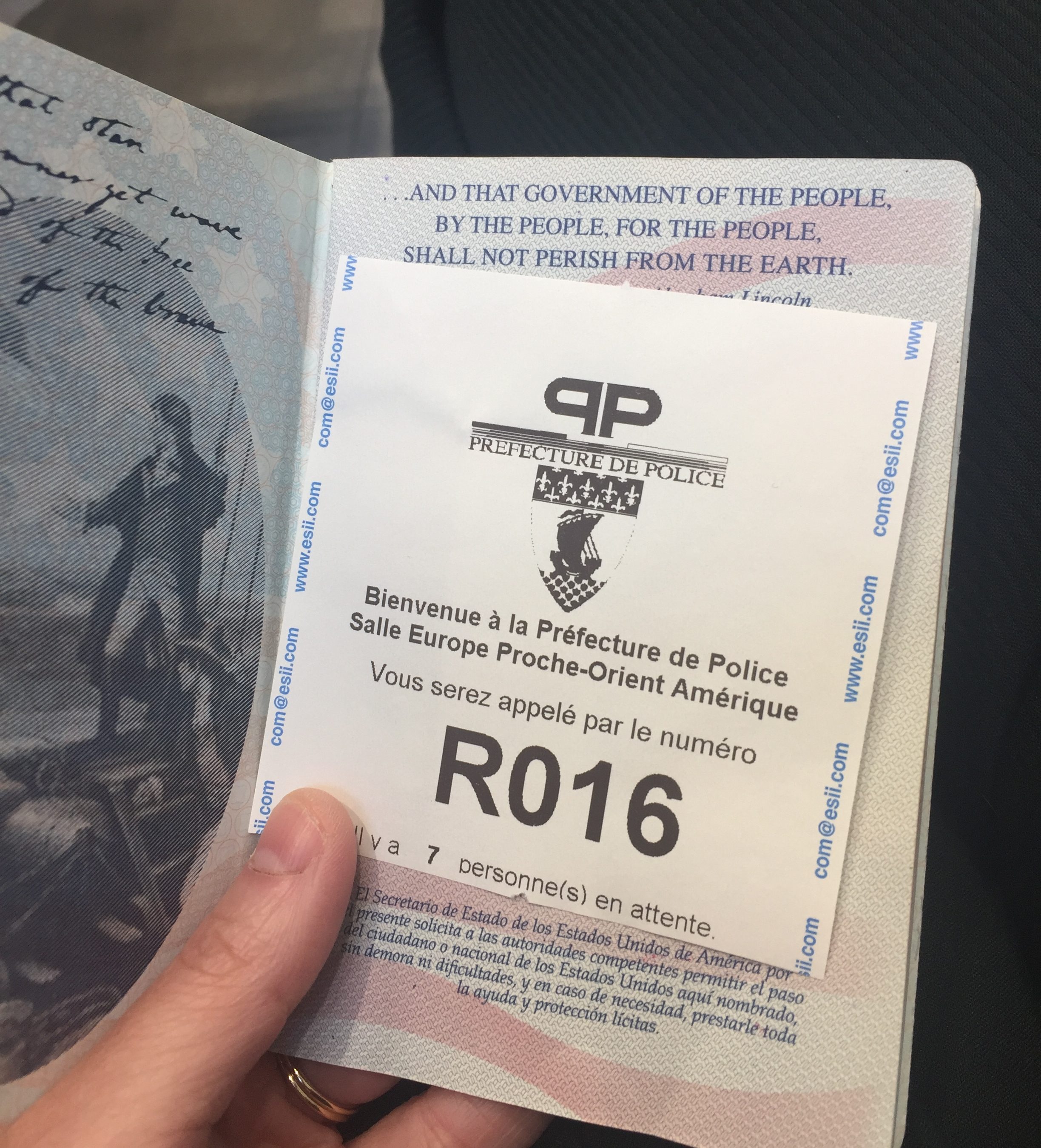 Once you are called to a window, you will be asked for all the necessary documentation one by one. Our agent was very no nonsense, and seemed to appreciate that we were organized. But despite our hours and hours of preparation, we still were missing a couple of things that weren't on the official lists.
Luckily at the Paris prefecture, you are able to email documents to the agent from your phone, and there is also a room where you can make copies. BRING COINS in case you need to use these machines.
If you are missing just a couple of documents, it is still possible that they will start the application for you and you will be required to mail in the missing pieces. However, this will result in delays, so it is highly preferable to complete your application at the meeting. I've also heard of cases where applications were completely denied and people sent home if they were missing a big piece of the application, or if a necessary document was more than three months old.

If your application is accepted, you will be given a récépissé valid for a few months that acts as a bridge between your expired VLS-TS and your carte de sejour. This way you can still travel and work while waiting for your carte to arrive.

PICKING UP THE CARTE
You will be notified by text message when your carte de sejour is ready for pick up, and given a time and date to come get it. It took me about three weeks to get the text message and then my pick-up time was two-and-a-half weeks after that. If you don't receive this within a month of your récépissé expiring, call the prefecture to make sure nothing is wrong.
I ignored the time on the appointment and went early and it wasn't a problem. The wait time was much shorter than the original appointment, and the whole thing took only about thirty minutes.
You check in at the "Salle des Remise des Titres," are given a number, and wait for your turn. When called, you have to give the agent your récépissé, the payment (timbres or proof you paid for them online) and you will sign some papers. Also bring your passport and the collection paper given to you at your first appointment.
Et voilà! I left with a two-year carte de séjour and can once again be immigration worry free — or at least until 2020!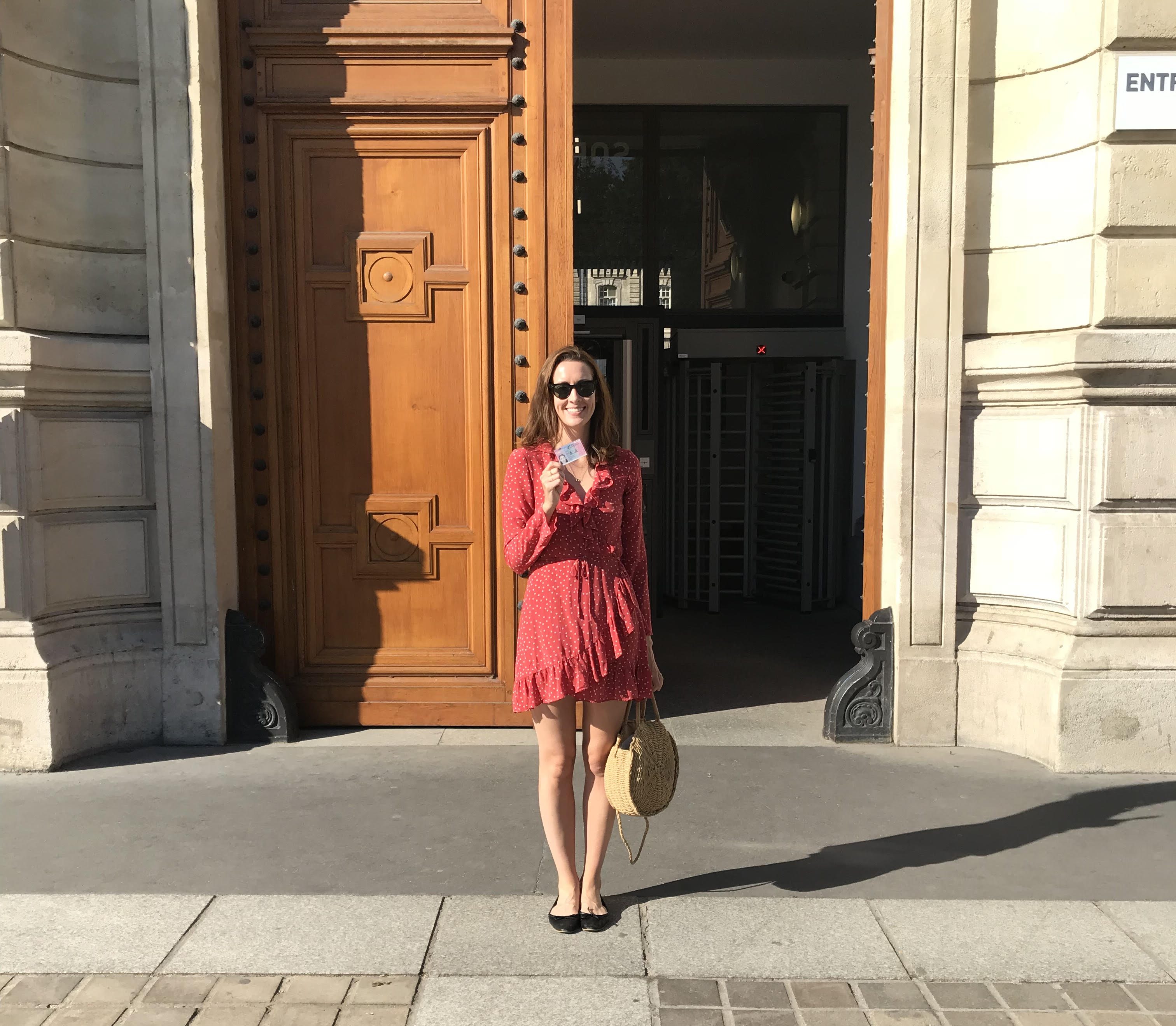 ---
Did this article help you get your carte de séjour? Please consider saying thank you by buying me a coffee or two to help keep my work going!

---
---