TCF Carte de Résident Test: What to Expect

Taking the test de connaissance du français or TCF is required when renewing your Titre de Sejour for a 10-year carte de résident, or when applying for French citizenship. There are some exceptions, such as if you are at least 65 years old or have certain diplomas (see the graphic below), but most of us have to take it. The test is created and managed by the Centre international d'études pédagogiques (part of the French Ministry of National Education), but is administered by private test centers and costs around 100-150 euros to take.
As part of applying for my 10-year card, I took the TCF pour la carte de résident in June. This is a slightly easier test than the one for French citizenship, which requires a B1 level of competence. The TCF Carte de Résident requires an A2 level of French language.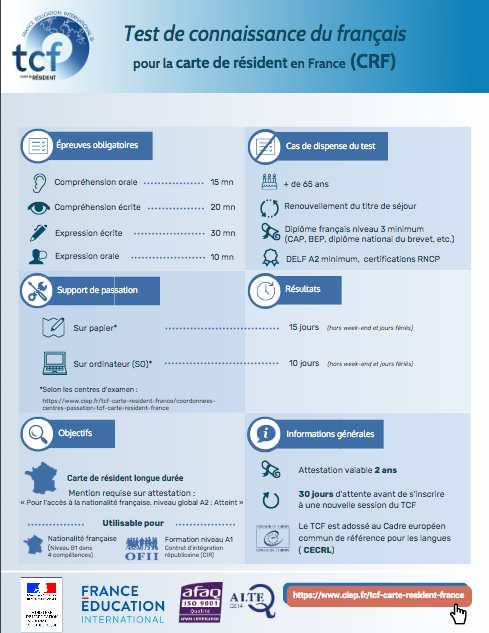 HOW TO REGISTER
I went to ILE International in Paris, but here is the list of all the schools in every country that administer this test.
You should register as early as you can. At the very least, take the test a month before your appointment to be safe to get your results in time. The dates do fill up so don't wait! Also consider that if you need to retake the test, you have to wait a month before you can do so.
WHAT TO BRING
To take the test I needed:
My convocation (the email proving I registered), printed.
La convention signée — a document attached to my registration email that lays out the rules of the test. You must print and sign.
A valid ID (carte de résident or passport. NOTE: Driver's licenses are NOT accepted.)
An envelope "Lettre suivie" (préaffranchie). You get this at La Poste. It needs to be "format A4" and you need to fill out your address in advance. This is what they send you your results in.
WHAT'S IN THE TEST?
The TCF pour la carte de résident test is comprised of four sections. At most centers, the first three parts are completed at a computer with headphones. Once you start the test, you will get an introduction/example of each section and how it works before each portion starts. You click a button to begin each section, so you can take a breather between each one if you need.

PART 1: Oral comprehension – 15 minutes
20 multiple choice questions. I found this to be the most difficult section. You listen to a snippet of a conversation or report and then choose an answer to a question about what was in it. Sometimes the answer choices are spoken, and sometimes they are in text. You only get to listen once, and it is timed with what felt like about 15 seconds to make a choice. This seemed quick to me and the questions get progressively harder. EXAMPLE QUESTIONS

PART 2: Written comprehension – 20 minutes
20 multiple choice questions. You'll be presented with various notices, letters, flyers, etc., to read and then answer questions about the content. You have 20 minutes total to answer, and can toggle or skip between questions. EXAMPLE QUESTIONS

PART 3: Written expression – 30 minutes
Respond to three emails or letters with approximately 50-word responses. You have 30 minutes to complete this section, which felt like more than enough time to me, and you can switch between the three responses as you wish. EXAMPLE QUESTIONS

This is the end of the computer-administrated portion. After completing it, I was shown my expected level (A1, A2, B1, etc.) for the first two, multiple-choice sections. However, the written portion has to be checked by a human so you don't get a grade for that yet.

PART 4: Oral exam – 10 minutes
This portion is done with a teacher/administrator. It is tape recorded and will be graded by both the person you take it with, and another person. During my oral test, there were three parts:
3 minutes of introducing/talking about yourself.
3:30 minutes of playing out a scenario with the administrator. In mine, I was looking to buy a pet and she worked at a pet store.
3:30 minutes of talking about something you like to do. In my case the prompt was the type of shops I like to go to and why.
Plan to spend two to three hours at the testing center including check in, instructions and wait times. You can expect your results in ten days to three weeks (mine arrived in that window) and the document is valid for two years.
HOW TO PREPARE
Below are a few resources you can use to prepare and practice for the TCF Résident. Note that many centers also include preparation documents or lessons in the price of the test.
Have you taken the TCF Carte de Résident test? What was your experience like? Leave a comment and share!
---
---