The Best French Advent Calendars of 2019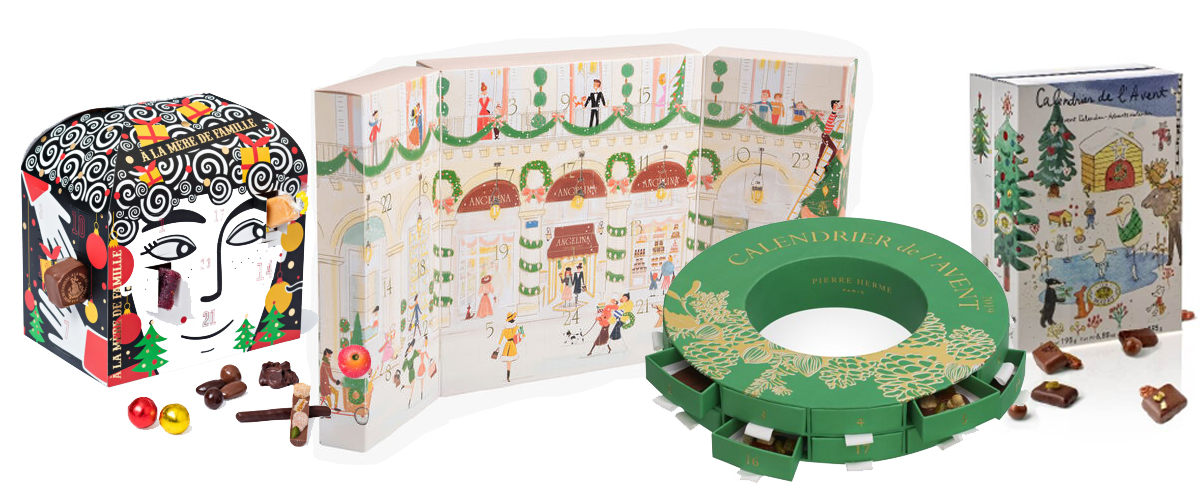 Each year, French chocolatiers and confiseurs release even more creative and beautiful calendrier de l'Avent, elevating them to a must-have for cozy holiday decor. And now the offerings have extended beyond chocolate to include tea, beauty and other high-end treats.
My criteria when determining my top advent calendars of this year are:
It has to be FRENCH. Sorry Belgium, your chocolate is great, but I'm only looking for truly French products.
Quality of goodies. Each surprise behind the numbered doors needs to rise above an everyday treat.
Cuteness Factor. If I'm going to display this in my home for a month, I want it to be beautiful.
Introducing my top French advent calendars of the 2019 holidays.
Angelina
With such a beautiful design inside and out, Angelina's 2019 advent calendar easily became my favorite choice. Angelina has been crafting chocolates in Paris since 1903. This calendar displays scenes outside Angelina's tea room on Rue de Rivoli and will have you feeling like you're spending Christmas in Paris no matter where you live. 29,95€
Available in store and online in November, available now on lagrandeepicerie.com.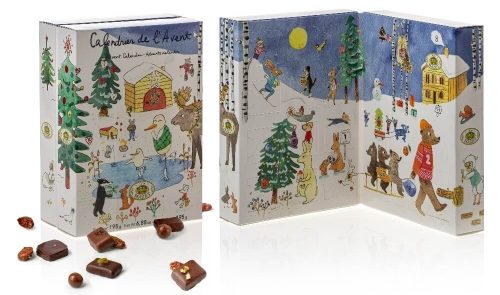 Simple and sweet. I love this year's Mazet Confiseur design by Marina Vandel, who started her career drawing animals for the Museum of Natural History in Paris. For 2019, the calendar is entirely filled with chocolate treats, nuts and nougat. 22,40€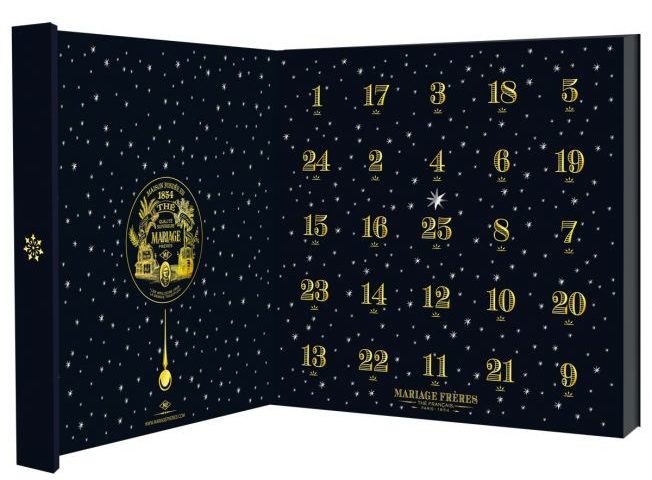 This is the first advent calendar from well-loved French tea company Mariage Frères. The Noël Sublime calendar is also special because Mariage Frères does not sell mixed boxes of teas, so this is a great way to sample 25 different flavors from their collection. 39€
Not yet available at time of publishing, the release will be announced on the Mariage Frères Instagram account.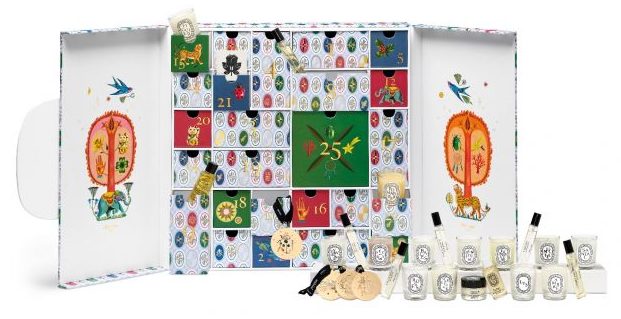 This luxury beauty calendar is no doubt a splurge, but it is gorgeous one. The 2019 theme is a colorful take on lucky charms from around the world and includes mini candles, personal fragrances, body care products and one full-sized holiday candle. Available at the end of October. 350€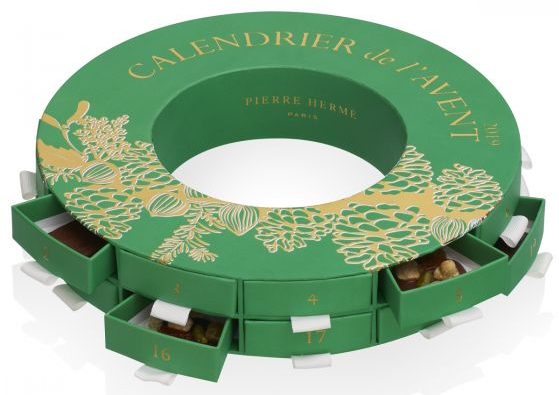 My favorite macaron shop has created this chic take on a holiday wreath, pulling from forest inspiration for its fourth edition. Last year this advent calendar sold out very quickly, so if you love it, buy it ASAP! 62€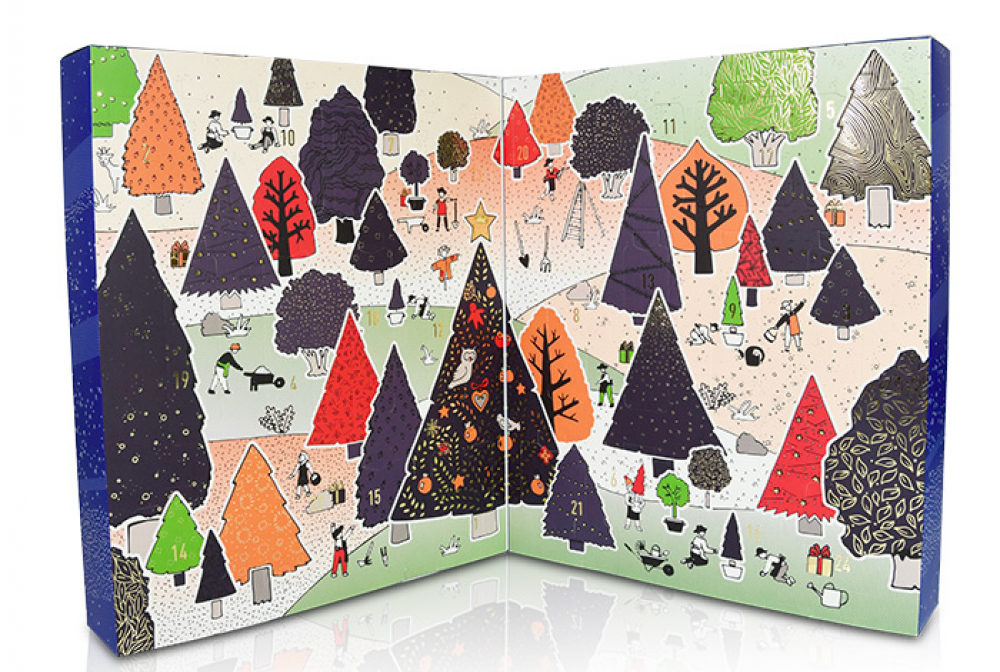 This is the advent calendar for the chef in your life! Maison Brémond 1830 produces some of the best olive oils, spreads and sauces in France and this calendar ensures a December full of deliciousness. Stocked with mini versions of their oils, balsamics, tapenades, seasonings, candies and more. 40€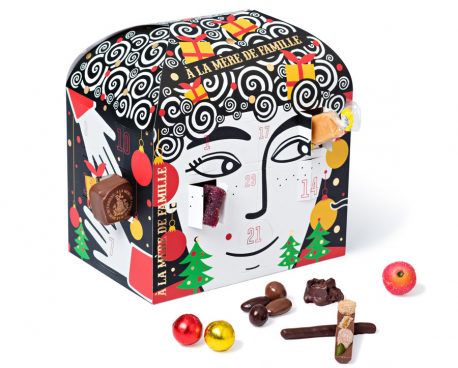 Founded in 1761, À la Mère de Famille is the oldest chocolatier in Paris and maintains a stellar reputation. This year, for the seventh edition of its advent calendar, the maison went for a little more modern design, tapping the artist Zeina Abirached. 39€
Oh My Cream! carries top products and is a favorite of Parisiennes in the know. The advent calendar contains 25 mini and full-sized of house products as well as brands such as Tata Harper and Ren Skincare. If last year is any indication, it will go fast, so buy now if you love it. 130€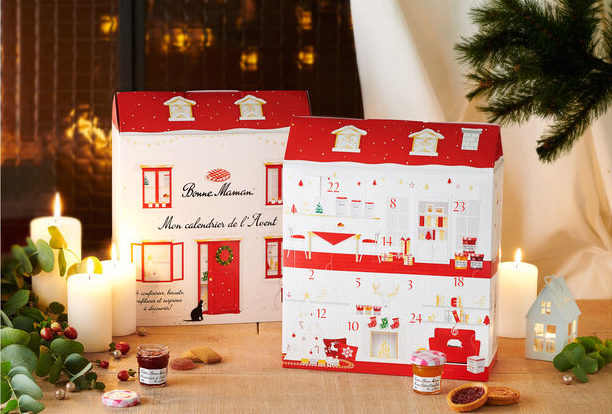 Bring a little warmth to cold December mornings with this sweet advent calendar. Every French person knows Bonne Maman's jams, marmalades, compotes, and cookies, and this box lets you try 24 different treats. 29,90€
Available on the Bonne Maman website and lagrandeepicerie.com.
What advent calendar are you buying for your home this year? Leave a comment and share your favorite with me!
---
---